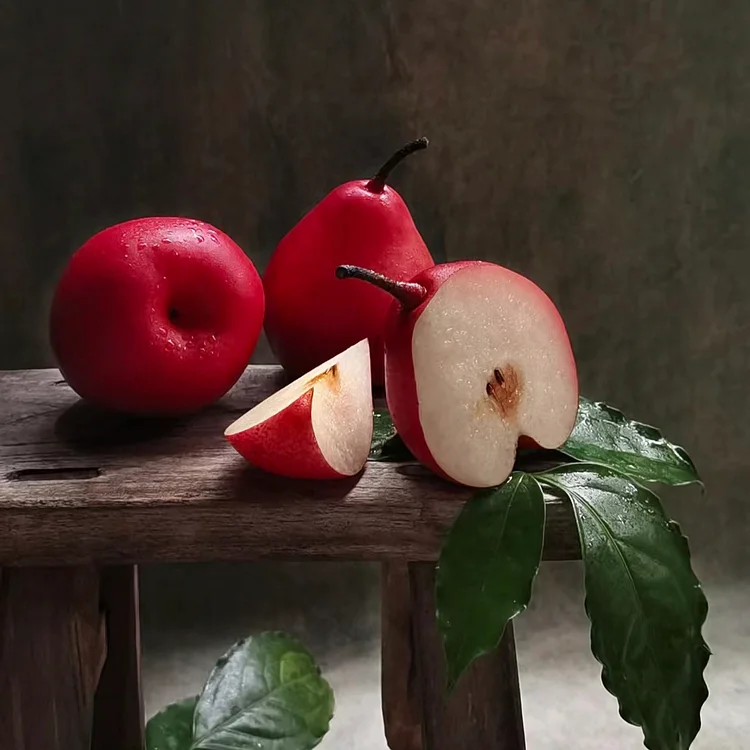 ✅ Worldwide Insured Delivery.
✅ ⏰Handling time>> Ship within 8-24 hours after payment
✅ 🚚Delivery time>> worldwide 5-15 working days
✅ Shipping>>Express Delivery from the Nearest Global Warehouse to the Worldwide.
✅ 🤝Returns>> Fast refund, 100% Money Back Guarantee
✅ We support Paypal payments to protect your property
Piqa Boo Pears have a beautiful appearance, a soft and chewy skin, and a delicate pear meat taste.It also has aromas of several fruits and is quite intensely aromatic.
FEATURES:
Super high value, eye-catching appearance
The shape is very cute, like a small gourd
The fruit has good firmness, tender flesh, sweet taste and rich juice
HOW TO PLANT
Choosing a Location: Select a sunny spot in your garden that receives at least 6 hours of sunlight daily. Ensure the soil is well-draining to prevent waterlogged roots.
Soil Preparation: Prepare the soil by adding organic compost or well-rotted manure to improve its texture and fertility. Mix it well with the existing soil.
Watering: Water the sapling thoroughly after planting to settle the soil and ensure good root-to-soil contact.
Watering Routine: Red Pears require consistent watering, especially during the growing season. Water deeply but avoid waterlogging. Adjust the watering frequency based on weather conditions.
Protecting from Pests and Diseases: Regularly inspect your Red Pear tree for signs of pests or diseases. Apply appropriate treatments if needed.
Harvesting: Red Pears are ready to harvest when they turn a deep red color and are slightly soft to the touch. Gently twist and lift to harvest.
NOTES:
Piqa Boo Pears need to be left for 2-5 days, the color changes from dark red to bright red, and it becomes soft before it can be eaten
The suitable storage temperature for pears is -1-2°C. If the storage temperature is too low, pears will suffer from frostbite.
In winter, you can wrap the pears with newspaper and put them on the balcony. They can be stored in the refrigerator when the temperature is warmer, generally for about two weeks.
AFTER-SALE SERVICE
Shipping - Worldwide Express Shipping is available
Returns>> Fast refund,100% Money Back Guarantee.
If for whatever reason you're not completely satisfied, then return the product within 90 days.
AT Our Store, WE HAVE STRONGLY CONFIDENCE ON OUR PRODUCTS. EVERY PRODUCT INCLUDES A 24-MONTH, WORRY-FREE GUARANTEE. IF YOU HAVE ANY PROBLEM OR SUGGESTION, PLEASE CONTACT US FREELY, WE WILL PROVIDE FRIENDLY SUPPORT FOR YOU IN 24 HR.