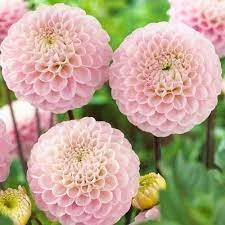 Product Description
Dahlia 'Wizzard of Oz'
'Wizzard of Oz ' is a lovely ball with the most beautiful buttercream button centers on soft pink lollipop shaped blooms. Prolific bloomer, but harvest on the early side because she drops her petals at maturity.
Flower Type: Ball
Plant Height: 36"
Bloom Size: 3"
Siting Requirements: Full Sun, well drained, rich soil, dahlias like plenty of water for best performance.
Days To Maturity: 80-100 days
Spacing 12-18"
Planting depth: 4-6"
Pinch: when about 12" tall
Harvest: when flowers are about 3/4 of the way open, cut stems about 18" long above a leaf node. Immediately place in a vase or bucket of cool water with flower food.