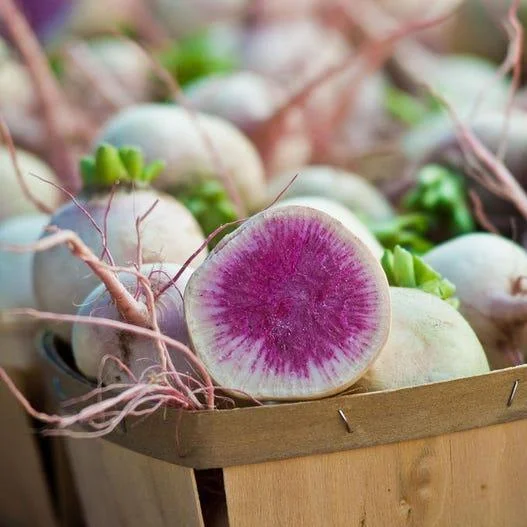 DESCRIPTION:
NAME: Watermelon Radish

OTHER COMMON NAMES: Beauty Heart / Shinrimei / Misato / Asian Red Meat Watermelon

SCIENTIFIC NAME: Raphanus Sativus

COLOR: White & Green Skin / Watermelon Pink-Red Flesh Inside

PLANT SEEDS: Spring or Fall

HARVEST: 55 Days

HARDINESS ZONE: Annual

PLANT HEIGHT: 4 - 6"

PLANT SPACING: 2 - 3"

LIGHT REQUIREMENTS: Sun

SOIL & WATER PREFERENCES: Average


OTHER:
Watermelon Radishes are a 4" round Chinese heirloom variety that is both meaty & crisp. They are too cute! They look like tiny little watermelons with white & green skin, & pinky-red flesh the color of a watermelon. They look lovely sliced so they can show off all their colors, & can add a lot of fun to salads & other dishes. A lot of people have never seen this beauty before, so it is an great type to grow for market.

Watermelon Radishes are pretty spicy when they are small, but become sweet & mild with just a slight peppery taste when they are full size. Choose your pleasure, or harvest them both ways. These radishes really like cool weather, & are best fall planted.