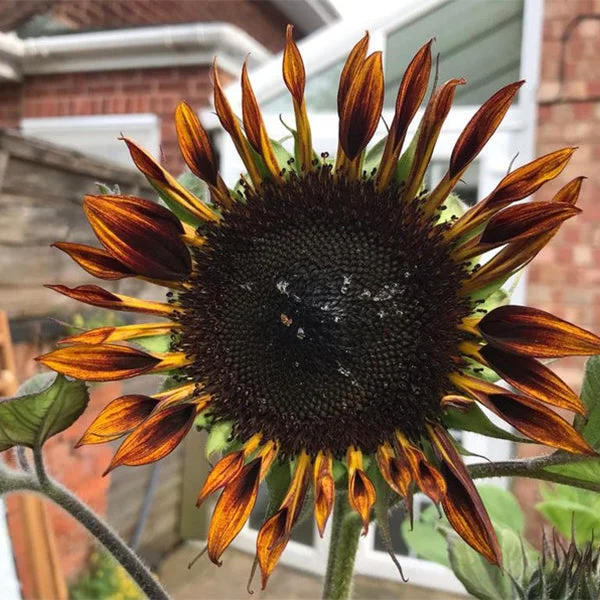 Rejoice, sunflower lovers! Our radiant new bicolor beauties have it all, for garden, vase, and happy bees, butterflies, and other pollinators. Enjoy a bounty of up to eight 5-inch blooms per plant — you'll get armloads of bright bouquets. The blooming plants look balanced rather than top-heavy, thanks to a sturdy branching habit. Their shorter stature makes harvesting easy. They'd be fantastic for containers on a porch or patio, too.
About this item
CERTIFIED ORGANIC SEEDS: In your garden or greenhouse these beautiful organic sunflower seeds bloom into an array of Tiger's Eye colors that bring beneficial insects & pollination to your garden.

FLOWER GARDEN: Hone your green thumb for these beautiful organic flower seeds. Plant & watch them grow in garden beds, terra cotta pots and outdoors to promote pollination and natural pest control.

SEEDS FOR PLANTING: These certified organic seeds are pesticide-free & non-GMO. Moisture-proof packets with a resealable zipper keep seeds viable for up to 3 years. Perfect especially for heirloom seeds.

SEED TO PLATE: What began as curiosity about urban farming turned into a passion to reconnect families to food by creating an experience for people to cherish the goodness of nature in their gardens.

ORGANIC GARDENING: Seeds of Change was built on the premise of preserving biodiversity, sustainability, & organic seeds with the promise of making organic foods available to gardeners & farmers since 1989.