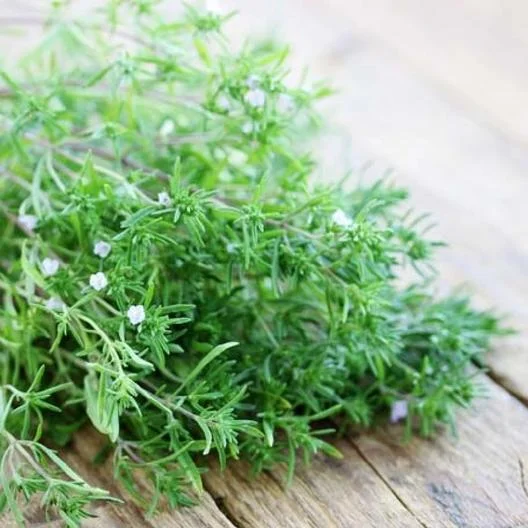 LIFE CYCLE:

Annual

LIGHT REQUIREMENT:

Full Sun

PLANTING SEASON:

Spring

DAYS TO MATURITY:

60-70 Days

PLANT SPACING:

10-12 inches

PLANTING DEPTH:

1/8 inch

SOWING METHOD:

Start Indoors, Direct Sow

WATER NEEDS:

Average

COLD STRATIFICATION:

No

SEEDS PER PACKET:

600 mg

SHIPS:

Year Round
How to Grow Summer Savory
WHEN TO PLANT SUMMER SAVORY SEEDS
Sow Summer Savory seeds indoors and transplant to your herb garden about 7 weeks later. Direct sow seeds in the garden after the last frost, keeping it moist until they sprout.
WHERE TO PLANT SUMMER SAVORY SEEDS
Choose a place that has well-draining soil, preferably sandy soil.
HOW TO PLANT SUMMER SAVORY SEEDS
If starting indoors plant seeds 1/8" deep into soil, but do not cover as these seeds need light to germinate. Transplant about 7 weeks later after germination.
If direct sow, place seeds 3-5 inches apart. Place 1/8" deep into soil and barely cover with light sand or fine soil. Germination is usually less than a week.
HOW TO HARVEST SUMMER SAVORY
Wait until the plant is at least 6 inches tall before you begin harvesting Summer Savory.
You may be able to harvest summer savory lightly after 6 weeks, and a bit more after another month. Hang branches upside down in a warm, airy place, then remove leaves and store in an airtight jar.