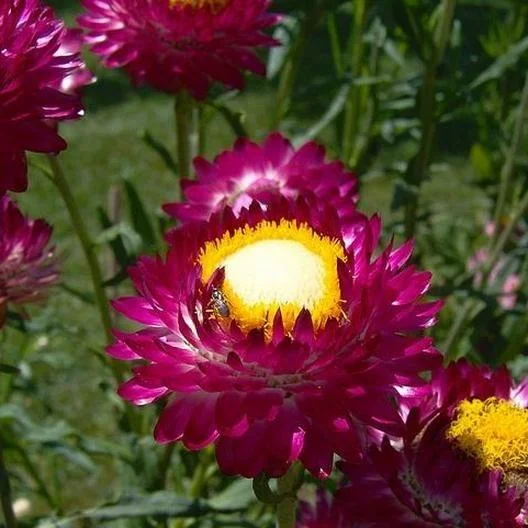 PRODUCT DESCRIPTION
Strawflower Seeds - Purple Red
Sometimes the simple, descriptive names are best. In this case, we can't think of anything better to call this lovely Strawflower cultivar! In a deep, saturated and jewel-like tone, Strawflower Purple Red is offset by its bright yellow center. Easy to grow and a champion in hot and arid regions, Strawflower is a favorite of florists and crafters for its "everlasting" tendencies.
FAST FACTS
| | |
| --- | --- |
| Name: | Strawflower Seeds - Purple Red |
| Botanical Name: | Helichrysum bracteatum |
| Life Cycle: | Annual |
| Light Requirement: | Full Sun |
| Planting Season: | Spring |
| Plant Type: | Tall green stalks with purple-red blossoms and yellow hearts. These are excellent for dried flowers. |
| Features: | Cut Flower Garden, Good for Dried Flowers, Deer Resistant, Easy to Grow & Maintain, Drought Tolerant |
| Color: | Red, Purple |
| Blooms: | Summer, Late Summer, Early Fall, Fall |
| Plant Height: | Up to 40 inches |
| Plant Spacing: | 12-18 inches |
| Planting Depth: | 1/16 inch |
| Sowing Method: | Direct Sow |
| Cold Stratification: | No |
| Hardiness Zones: | 2, 3, 4, 5, 6, 7, 8, 9, 10 |
| Ships: | Year Round |
PLANTING INSTRUCTIONS
How to Plant Purple Red Strawflower
WHEN TO PLANT STRAWFLOWER SEEDS
Direct sow Strawflower seeds in the Spring, after the threat of frost has passed. Starflower can also be started indoors, 6-8 weeks before the final frost date in Spring.
WHERE TO PLANT STRAWFLOWER SEEDS
Strawflower does best in Full Sun conditions, though they can tolerate Partial Shade - though in shade you'll see noticeably fewer blooms. Strawflower doesn't require particularly rich soil as long as it's well-drained, but amending in some compost will help ensure they thrive.
HOW TO PLANT STRAWFLOWER SEEDS
Sow seeds directly onto the surface of the soil, and firmly compress. Do not cover the Strawflower seeds, as they require sunlight to germinate. This variety should start sprouting in approximately 7-10 days.
HOW TO CARE FOR STRAWFLOWER
When your Strawflowers reach a height of 2-3 inches, thin them to 1 plant every 10-12 inches apart for adequate spacing. Once established, Strawflowers don't need much care. Watering is only needed if the soil starts to feel dry to the touch. Once flowers begin to fade, pinch them off to encourage additional Strawflower blooms.