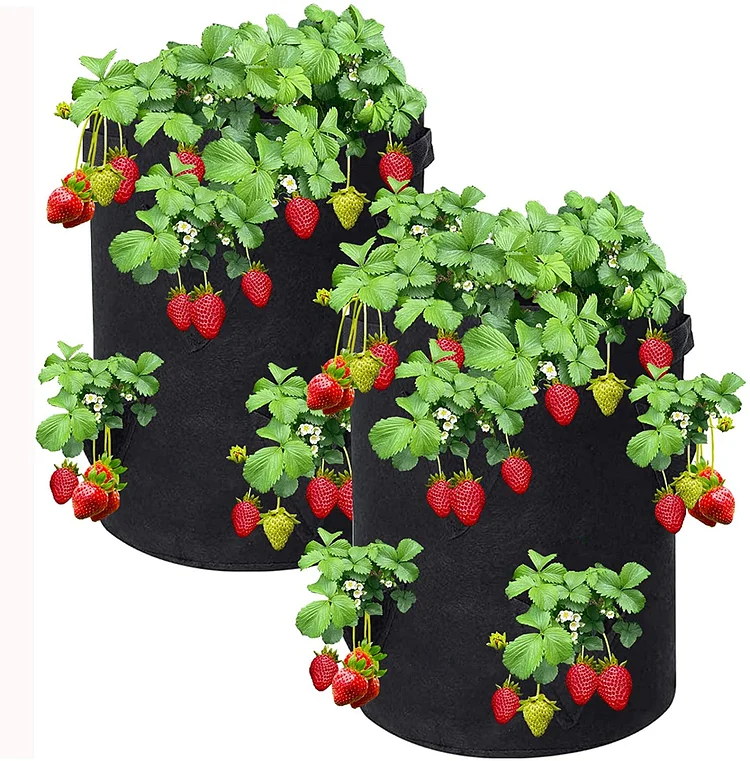 Plant Your Vegetables & Fruits In Our Big Grow Bags
Plant Your Vegetables & Fruits In Our Big Grow Bags
Eat fresh vegetables & Fruits you grow: Would you like to grow your own food? It's really easy and fun to do.
Creating a garden, to see plants grow and blossom, watering and fertilizing, then wait for harvesting good crops. All of this just need these plant grow bags.
A fulfilling, relaxing hobby, provided you have the right tools at hand. That's why many experienced gardeners choose us.
Great quality, attention to detail and value for money.
【Innovative Design】Reeyox strawberry grows bag design with 8 side pockets, perfect for Strawberries' shallow roots. Plus you can add even more plants to the open top. Reinforced handle allows you to move it easily.
【Breathable Material】Made of double-layered thick non-woven fabric, which is lightweight and breathable. It makes the roots extend freely, get more oxygen, percolates the excess water quickly, and creates a stable growing environment for planting and growing.
【Durable & Reusable】The planting bags are made of premium material, sturdy enough for reusable use. You can repeat planting other vegetables after finished. Grow bags fold for storage and are reusable year after year.
Advantages Of Our Large Vegetable Growing Bags:
Breathable Plant Grow Bags For Fruits& Vegetables
It's made of thickening non-woven fabric, washable&reusable, allows roots well ventilated and no waterlogged, your plants will grow faster.
10 Gallons with 8 Side Grow Pockets
The 8 side pockets are perfect for Strawberries' shallow roots. Plus you can add even more plants to the open top. Allow the strawberry plant grow freely and boosts yields
Reinforce Carrying Handles
It's easy to lift and carry your plant grow bags, reinforced seams and strength fabric can support even the heaviest crops
Versatile
Reeyox plant bags are suitable for all plant types and locations. You can use them outside in the garden, on the terrace or balcony, and also in greenhouses. They are suitable for growing and nurturing all kinds of plants, even for trees up to about 1m in height. Can be used for strawberry tomatoes, cucumbers, zucchini, beans, carrots, herbs, fruit trees and more.
Material: Fabric
Size:
S: 23X28CM (18L/5 Gallons)
M: 30X35CM (26L/7 Gallons)
L: 35X45CM (43L/10 Gallons)
Package Include: 1 x Plant Bag