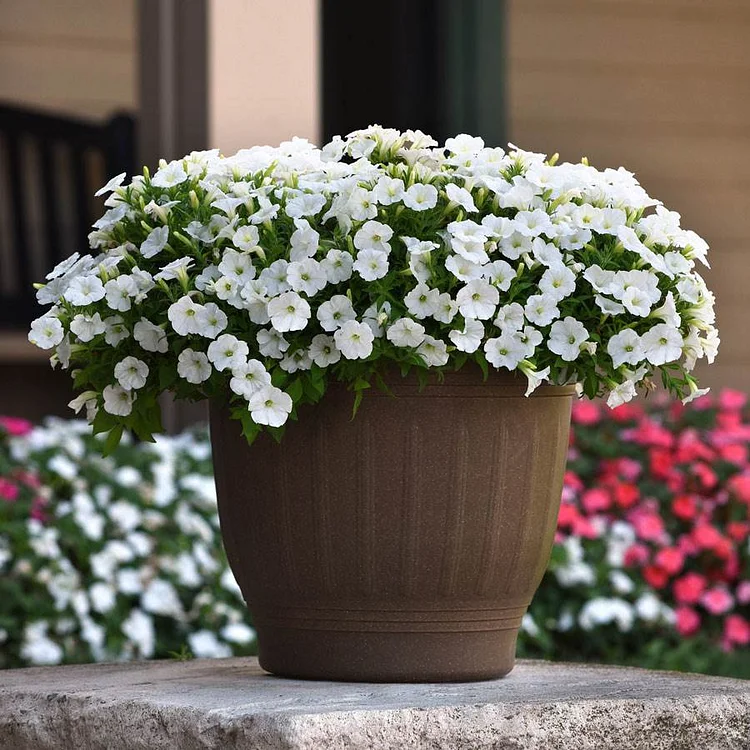 Days to Maturity: 63 to 84
Shock Wave White Petunia is a tender perennial (Zones 10-11), often grown as an annual, offering spring through summer interest. Packed with petite, high-impact flowers, the plant is blanketed non-stop in fragrant pure white blossoms over a long season. The showy flowers rebound faster from rain or overhead watering and attract butterflies and hummingbirds to the garden.
Full and lush, Shock Wave? White Petunia has a compact, dense, mounded, spreading habit and controlled, manageable vigor, similar to E3 Easy Wave varieties. The plant gracefully cascades from containers, window boxes, and hanging baskets but also make great edging or groundcover in beds and borders. Planted alongside perennials and vegetables, petunias repel asparagus beetles, leafhoppers, a range of aphids, tomato worms, and many other pests.
Easy to grow, Shock Wave? White Petunia prefers full sun to light shade and average, medium moisture, well-drained soil. It tolerates poor soils, heat, and cold. It is virtually disease and pest free and deer resistant. It is low maintenance but pinching off the tops of established plants results in bushier plants with a heavier bloom and deadheading regularly encourages and prolongs flowering. Cutting back plants that have declined in summer heat promotes later blooms as temperatures cool.
Direct sow petunia seed after the last frost and as soon as the soil is warm in spring, or start seeds indoors 10 to 12 weeks before the last frost and transplant after all threat of frost has passed.
This seed comes as a pellet. Pelleted seeds are small seeds that have been clay-coated to make them larger and more uniform in size and shape, making them easier to handle when planting.
| | |
| --- | --- |
| Genus | Petunia |
| Species | x hybrida |
| Variety | Shock Wave White Spreading |
| Item Form | (P)Pkt of 50 seeds |
| Bloom Start to End | Mid Spring - Early Fall |
| Days to Maturity | 84 |
| Habit | Spreading |
| Seeds Per Pack | 50 |
| Plant Height | 7 in - 10 in |
| Plant Width | 20 in - 2 ft 6 in |
| Bloom Size | 1.5 in - 2 in |
| Additional Characteristics | Flower |
| Bloom Color | White |
| Foliage Color | Medium Green |
| Light Requirements | Full Sun |
| Resistance | Cold Hardy |
| Uses | Baskets,Beds,Border,Containers,Outdoor |