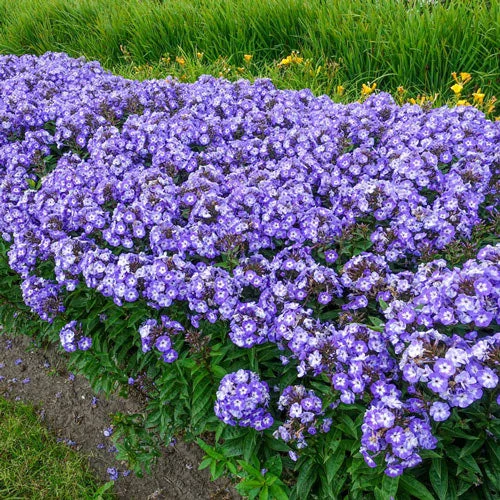 Shorter plant produces big, bold flower panicles.
Growing 25" tall, Roundabout bears dense, fragrant, pyramidal flower panicles up to 6-8" across. The stems are nice and sturdy, so it's easy to show off the blue tubular flowers with white eyes.It's great in a planter or massed together in a border.
Botanical Name: 

Phlox paniculata 'Younique Roundabout'

Form: 

Perennial

Hardiness Zone: 

3-8

Flowering Time: 

Midsummer well into the fall.

Light Requirements: 

Full Sun, Partial Shade

Flower Color: 

Blue-violet with a white eye

Flower Form: 

Individual tubular flowers up to 1" across form a dense pyramidal panicles up to 6-8" across.

Foliage Type: 

Lanceolate foliage

Growth Rate: 

Medium
Height/Habit: 

25 inches

Spread: 

18 - 24 inches

Planting Instructions: 

Top of plant should be just below the soil. Space plants 18-24" apart.

Soil Requirements: 

Well drained

Will Tolerate: 

Acidic Soil, Clay Soil, Loamy Soil, Sandy Soil

Pruning: 

Removing spent flower heads will induce new ones.