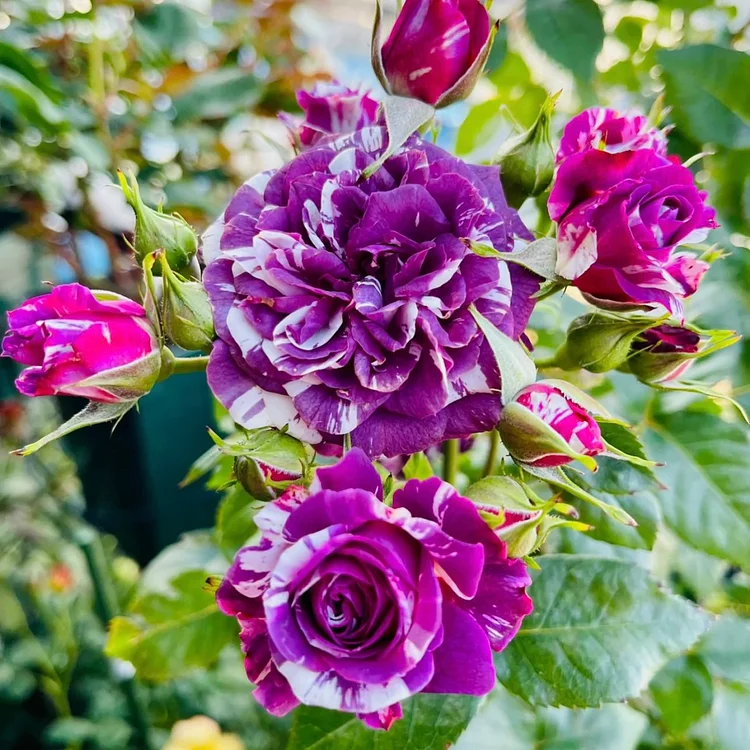 Imagine your garden blooming with beautiful roses, exuding an intoxicating fragrance that captivates your senses. Now, you can easily make this dream come true with "Scented Jewel" rose seeds. We offer not just a flower, but a delightful experience of beauty.
Name: Scented Jew
Plant Family: Floribunda Rose
Color: Purple with white
Fragrance: Strong
USDA Hardiness Zone: 6-10
Bloom Size: 3"
Mature Size: 32"
"Scented Jewel" rose seeds are meticulously selected premium varieties designed for those who seek a unique and enchanting atmosphere in their gardens. These seeds will not only cultivate gorgeous roses in your garden but also infuse your space with a magical aroma, immersing you in a sea of flowers.
Each rose is like a dazzling gem, blooming in your garden, eliciting endless admiration and joy. Moreover, compared to other rose varieties, "Scented Jewel" rose seeds excel in fragrance. The captivating scents they emit will fill your entire garden, enchanting your family and visitors. Whether it's a sunny morning, a peaceful night, or a romantic moment, these fragrances will provide you with unforgettable experiences.
Not only that, but "Scented Jewel" rose seeds also possess disease resistance and pest resilience, ensuring your plants thrive with health and vigor. Whether you're a gardening novice or an experienced enthusiast, these seeds will bring you a pleasurable planting experience.
Start planning your dream garden now! By choosing "Scented Jewel" rose seeds, you'll create a unique floral paradise, brimming with beauty and fragrance. We offer high-quality seeds that guarantee optimal growth and blooming.
Don't wait any longer. Purchase "Scented Jewel" rose seeds today and infuse your life with beauty and fragrance. Let these flowers become the stars of your home, bringing you joy and pride. Experience the magic of "Scented Jewel" rose seeds!