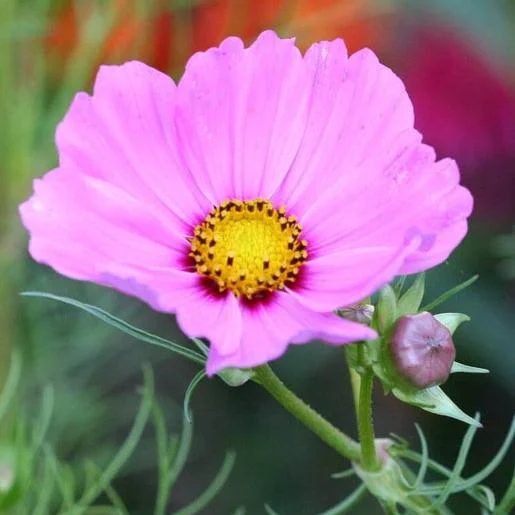 Cosmos bipinnatus. Reliable and well-loved single daisy shaped flowers with yellow centers bloom in white and various shades of pink. Pinching off the growing tip when the plant is about 15cm (6") tall will help keep this tall lacy plant bushy and erect. Do not overfeed, as rich soil will delay flowering. Sensation Mix cosmos seeds plant height 1.2-1.8m (4-6'). Stake these tall Cosmos in windy gardens, but in sheltered areas, this is not necessary. Deadhead (remove spent flowers) to extend the flowering period and keep plants looking their tidiest. Cosmos is quite drought tolerant so it makes a good candidate for xeriscaping. Provide some water in extreme drought. Sensation Mix won an AAS Award in 1936.
Annual
Hardy annual
Single daisy shaped flowers
Blooms in white and pink
Plant height 1.2-1.8m (4-6')
Deadhead to extend flowering
How to Grow Cosmos
Step 1: Timing
Direct sow after the last frost date. Several sowings will result in a very long bloom period. Cosmos can also be started indoors in late winter for transplanting after last frost, once daytime temperatures are above 10°C (50°F). Seeds will sprout in 3-10 days. Optimal temperature for germination: 21-25°C (70-75°F).
Step 2: Starting
Sow seeds very shallowly only a few millimetres (1/8″) deep. Thin or transplant to 20-25cm (8-10″) apart.
Step 3: Growing
Most varieties can get quite tall, and in exposed or windy gardens can benefit from staking or trellis netting laid horizontally over the bed for the stems to grow through before blooming. Deadhead and cut for bouquets regularly to extend the bloom period.