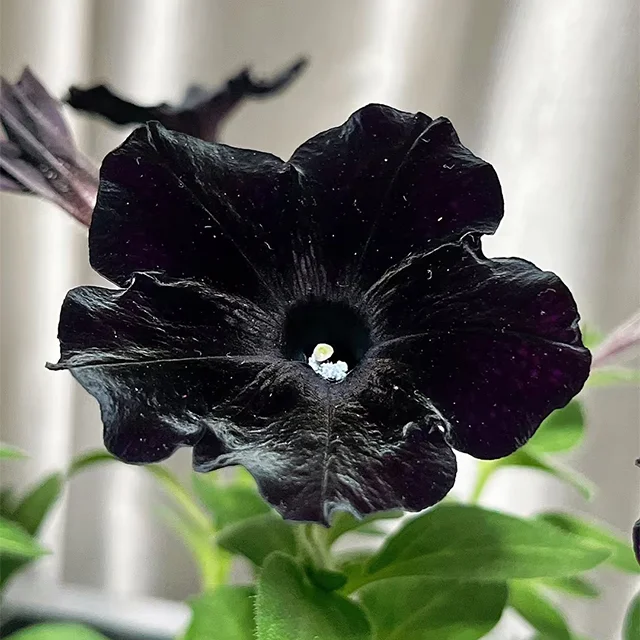 The world's best black petunia!
Mingling harmoniously with other shades, the purring beauties of 'Black Velvet' petunia add welcome texture and depth to the border all season through. The early-blooming, upright, mounded, full-bodied 12" plants are ready to star in a container on a patio near you. Drought-tolerant, disease-resistant.
Genus:
Petunia
Variety:
Black Velvet
Bloom Start To End:
Late Spring – Early Fall
Habit:
Mound-shaped
Packet: 50/100/200 seeds.
Plant Height: 8 in – 12 in
Plant Width: 8 in – 12 in
Additional Characteristics: Bloom First Year,?Butterfly Lovers,?Easy Care Plants,?Flower,?Free Bloomer,?Long Bloomers,?Repeat Bloomer
Bloom Color: Black, Dark Purple
Light Requirements: Full Sun
Moisture Requirements: Moist, well-drained
Soil Tolerance: Normal, loamy
Uses: Baskets, Beds, Containers, Outdoor
It took 4 years of breeding, and was worth every day of it! The only black Petunia in the world has now arrived, and is already sweeping up awards and winning hearts. This upright, mounded plant is very compact and tight at just 8 to 12 inches high and wide,and it covers itself from early summer until frost with big, sweet-scented charcoal-black blooms. The perfect combination planting with white, red, yellow, and orange flowers, it is just as easy to grow and tirelessly blooming as other Petunias. You must try Black Velvet this season and admire its inky-dark color up close!
🌼🌿🌸 Order Now and Embrace Nature's Colors 🌼🌿🌸