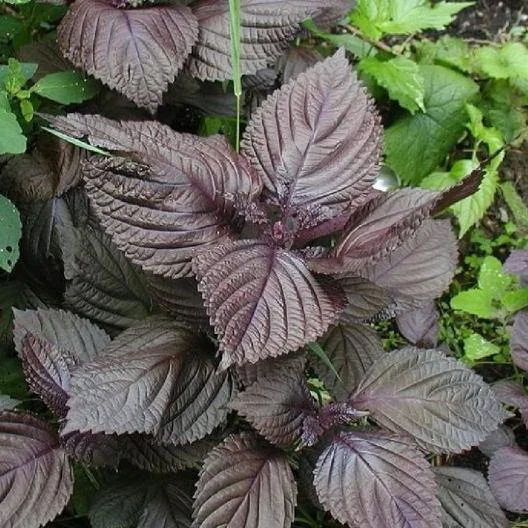 LIFE CYCLE:

Annual

LIGHT REQUIREMENT:

Full Sun

PLANTING SEASON:

Spring

DAYS TO MATURITY:

80-85 Days

PLANT SPACING:

6-12 inches

PLANTING DEPTH:

1/4 inch

SOWING METHOD:

Start Indoors, Direct Sow

WATER NEEDS:

Average

COLD STRATIFICATION:

Yes

SEEDS PER PACKET:

500 mg

SHIPS:

Year Round
How to Grow Perilla
WHEN TO PLANT PERILLA SEEDS
Direct sow in late winter/late spring or late summer/autumn.
Indoor sow Perilla seeds 6-8 weeks before the last spring frost in your zone.
WHERE TO PLANT PERILLA SEEDS
Plant your Perilla in well-draining but moist soil in a partially sunny to full sunny area.
HOW TO PLANT PERILLA SEEDS
Indoor sow by surface sowing the seeds in pots or rays and do not cover — just tamp into soil. Perilla seeds need light to germinate. Water from beneath as not to wash away seeds and cover with plastic.
Cold stratify seeds — Perilla seeds need cold weather to break down germination inhibitors. Either place newly sown pots or flats in the refrigerator for 1-3 months or place them outside against a north wall and leave them there until the spring. Keep soil moist. You can also place seeds in a bag and store in a refrigerator if not to be planted soon.
HOW TO HARVEST PERILLA
Germination takes 7-14 days depending on the light and soil temperatures. Seedlings can be thinned to transplanted when they have several sets of mature leaves.