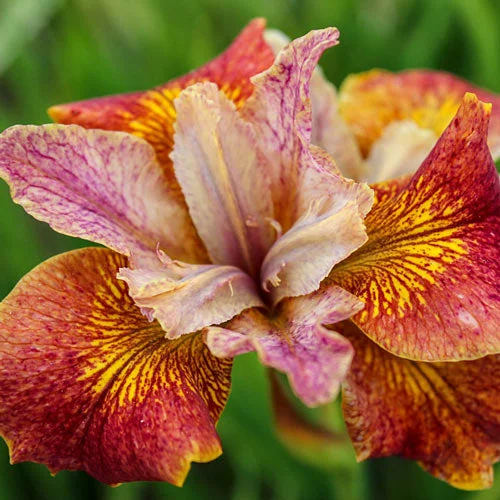 Here's a stunning, uniquely hued Siberian iris that will attract attention wherever you use it, whether planted in a group in a garden, at the edge of a walking path or alongside a water feature. Blooming from mid to late spring, the 5" flowers feature violet-peach standards with coppery, orange-red falls that sway in the breeze and deep yellow signals veined in red. Butterflies and honeybees find these blooms irresistible, but deer and rabbits tend not to eat them. Because Paprikash reaches 20" tall, it's an excellent option for mid-border use. The showy flowers are wonderful for cutting, so be sure to grow a few extra to use in bouquets and arrangements.
Botanical Name:

Iris sibirica 'Paprikash'

Form

:

Perennial

Hardiness Zone

:

3-9

Flowering Time

: Mid to late spring.

Light Requirements

:

Full Sun, Partial Shade

Flower Color

:

Violet-peach standards with orange-red falls and deep yellow signals are veined in red

Flower Form

: 4" typical Iris-like flowers

Foliage Type

: Slightly arching, narrow grass-like leaves.

Growth Rate

:

Medium
Height/Habit

:

20 inches

Spread

:

18 - 24 inches

Planting Instructions

:

Plant with eyes (sprouts) just below the soil. Firm well and water thoroughly. Plant where they will get at least 5 hours of sun per day.

Soil Requirements: Well drained

Will Tolerate

:

 

Acidic Soil, Clay Soil, Loamy Soil, Sandy Soil

Pruning

:

Remove spent flower stems after blooming.