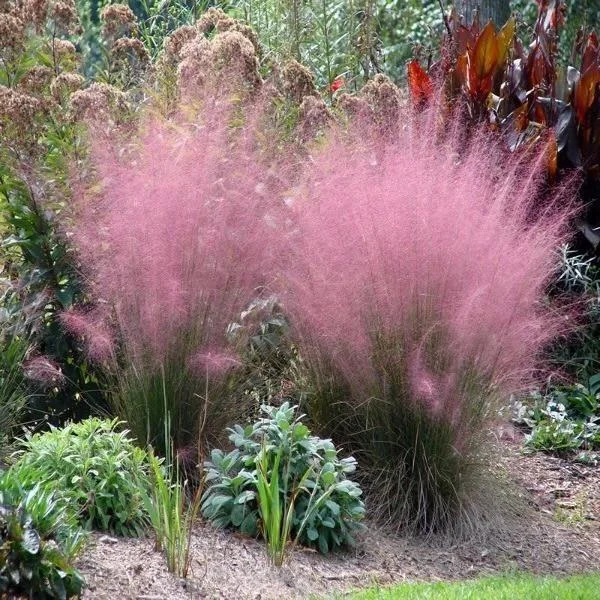 Muhlenbergia capillaris is one of the most exciting members of the grass world. Pink Muhly Grass is sought after for several reasons: spectacular pink plume color, drought tolerance and undemanding nature. Pink Muhly Grass grows in a mound with erect, blue-green foliage until September when spectacular, billowing pink seed heads form a cotton-candy crown. When planted in masses, the dramatic effect can take your breath away.
Because it is drought tolerant and requires little attention once established, Muhlenbergia capillaris is used extensively on highway medians, golf courses and in home landscapes. It's excellent on steep banks. Pink Muhly Grass should be cut back in early spring, but cut well above the crown (3-4") to preserve growing points. When planted in masses, allow adequate spacing for good air circulation to help prevent tar spot (Phyllachora). If planting in fall, plant at least a month before first frost in improve overwintering.

Item specifics
Seller Notes: "All our seeds are from the latest fresh supply and tested for viability"
Custom Bundle: No
Brand: Grass
Sub-Type: Grasses
Foliage: Blade
Season of Interest: All Year, Autumn, Spring, Summer, Winter Species: capillaris
Genus: Muhlenbergia
Sunlight: Partial Shade, Full Shade, Full Sun, Low Sun, Medium Sun
Variety: Fully Hardy Ornamental Perennial Grass
Type: Seeds
Germination: 12 weeks cold treatment required. Watering: Medium
Climate: Dry, Arid, Cold, Continental, Highland, Humid Continental, Humid Subtropical, Marine West Coast, Mediterranean, Mountain, Semiarid, Subarctic, Sub-tropical, Temperate, Tropical, Tropical Wet, Tropical Wet & Dry, Tundra Growth
Stage: Seeds
Hardiness Rating (RHS): H7 (< -20 °C) Growth Rate: Medium
Common Name: Muhly Grass
Indoor/Outdoor: Outdoor
Plant Form: Seeds
Colour: Pink,  White, 

Purple,

Yellow,Red
Soil Type: Chalk, Clay, Loam, Peat, Saline, Sand, Silt
Features: Air Purifying, Cold Resistant, Deciduous, Draught Resistant
GROWER INFO & TIPS
Growth rate: medium-fast
Grow in 1, 2 or 3 gallon
Grow in well-drained soil
Water needs: evenly moist
Fertilizing: use a slow-release, medium-rate fertilizer
Possible pests: aphids, rust; tar spot (Phyllachora), especially in heat of summer
Overwintering: cold frame with clear poly; do not overwater
Can be cut back if plants get too tall or floppy; if cutting back, do so by early August so flowering is not interrupted
*Note: please adapt these suggestions as needed to accommodate your local conditions.

LANDSCAPING INFO
Native grass that is heat– and drought-tolerant; requires little maintenance
When in bloom, sweeps of this plant stop people in their tracks
Well suited for use in tough places such as traffic islands, parking lots and highways
Attractive mounding habit great addition to perennial borders and mixed plantings
Vibrant deep pink blooms in fall