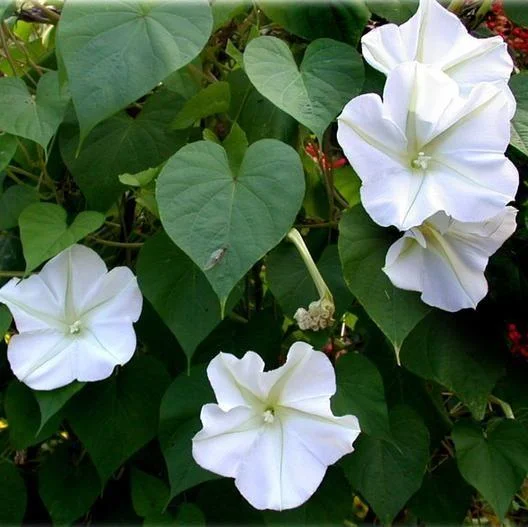 PRODUCT DESCRIPTION
Moonflower Seeds -Ipomea alba
As the name would suggest, this gorgeous, bright white bloom is related to Morning Glories but blooms, you guessed it, at night! Perfect for trellises or fences, Morning Glories are natural climbers that will climb anything in their path if not directed.
*Seed scarification advised for moonflower seeds (Nicking or scaring seeds with hard seed coatings before planting helps the seeds absorb water. After scarification soak seeds in water overnight before planting. This will jump-start germination and get your garden growing faster.)
Night-blooming tender perennial climbing vine
Open pollinated variety with white Summer blooms
Thrives in full sun or partially shaded areas
FAST FACTS
| | |
| --- | --- |
| Name: | Moonflower Seeds |
| Botanical Name: | Ipomoea alba |
| Life Cycle: | Perennial, Annual |
| Light Requirement: | Full Sun |
| Planting Season: | Spring |
| Plant Type: | Climbing Vine with white blossom |
| Features: | Open Pollinated, Attracts Pollinators, Attracts Hummingbirds, Deer Resistant, Drought Tolerant, Easy to Grow & Maintain, Container Garden |
| Color: | White |
| Blooms: | Summer |
| Plant Height: | 96-144 inches |
| Plant Spacing: | 12/18 inches |
| Planting Depth: | 1 inch |
| Sowing Method: | Start Indoors, Direct Sow |
| Cold Stratification: | No |
| Seeds per Packet: | 2 g |
| Hardiness Zones: | 4, 5, 6, 7, 8, 9, 10 |
| Ships: | Year Round |
PLANTING INSTRUCTIONS
How to Plant Moonflower Morning Glory
WHEN TO PLANT MORNING GLORY SEEDS
Seeds can be directly sown once soil temperatures are 65 degrees or above, or started indoors 4-6 weeks before the final frost date for your area.
WHERE TO PLANT MORNING GLORY SEEDS
Morning Glory plants prefer full sun so be sure to pick an area that has direct sunlight for 6-8 hours.
HOW TO PLANT MORNING GLORY SEEDS
Seeds may be scarified, but not a requirement. To scarify, you may nick the seeds with a knife, or rub the seeds with sandpaper or a file. Then soak the seeds overnight. Plant seeds 1/2 inch deep and provide 8-12" spacing between plants.
Once vines reach 6 inches, provide trellis support unless planted in hanging planter in which case you can leave it to spill over.
HOW TO CARE FOR MORNING GLORY
Water weekly at first or when the soil looks dry. Once established, only water as needed. Remove any spent blooms as they appear and at the first sign of killing frost, cut back dead vines.