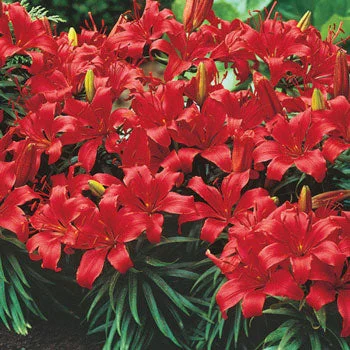 Botanical Name: 

Lilium asiatic & oriental

Form: 

Bulb

Hardiness Zone: 

3-8

Flowering Time: 

Early to midsummer

Light Requirements: 

Full Sun, Partial Shade

Flower Color: 

Collection, see individual varieties

Flower Form: 

Typical asiatic and oriental forms

Foliage Type: 

Linear green leaves and narrow long lance-shaped.

Growth Rate: 

Medium
Height/Habit: 

10 - 20 inches

Spread: 

9 - 15 inches

Planting Instructions: 

6" deep and 9 - 15" apart

Soil Requirements: 

Prefers well drained soil, but will tolerate heavier soils.

Will Tolerate: 

Acidic Soil, Clay Soil, Loamy Soil, Sandy Soil

Pruning: 

Don't remove leaves until they have died down in fall. They help provide nourishment to the bulb for next season's blooms.