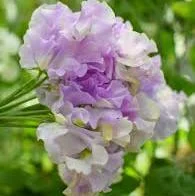 Lathyrus Odoratus ' Lavender Flake'
From Owls Acres, a beautiful, perfect frilly lavender sweet pea, great for weddings and bouquets.
Sweet peas are a hardy annual which means they can tolerate, and even prefer cooler weather, although some varieties are also heat tolerant. If you live in a moderate climate, you can sow the seeds in the fall right into the ground or in spring as soon as the ground can be worked. It would be best to sow into a prepared bed that you readied in the fall for winter or early spring sowing.
When starting seeds indoors, I start my sweet peas under shop lights anywhere from the end of January to the beginning of March (zone 8, last frost date April 24). Once the sweet peas are 6-8 inches tall, I pinch out the tips down to a leaf set to encourage branching. I plant 1-3 sweet pea plants in a hole, spacing 8" apart down the row and 12" apart across the row. Sweet peas like lots of water and rich soil. I hope you enjoy growing these beautiful flowers as much as I do!
* Caution: sweet pea seeds are poisonous and should not be ingested.*
Information:
Hardy Annual
Height: 6-8 feet
Spacing: 6-8" apart
Site: Full Sun
Days to Maturity: 75-90
Pinch: When 6" tall
Approximate seeds per packet: 10
Special Notes: Use T-Posts and plastic netting if you don't have a fence for sweet peas to climb. Space your posts evenly every 8' or so.