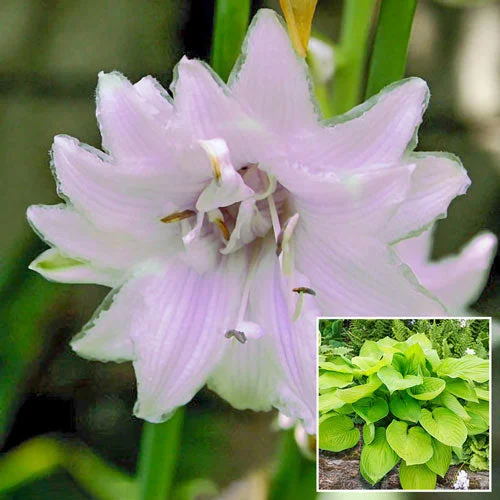 Known more for its flowers than its foliage.
The first of its kind to produce lavender, fully double blooms in mid to late summer. Blooms appear on stems up to 24"tall, opening above the foliage, which presents light spring green leaves that transform to soft yellow during summer. Gives a refreshing look to shade gardens, borders or containers, or use as ground cover. Plus, with its moderate height, Ki-renjyaku makes a superb ground cover.
Botanical Name: 

Hosta 'Ki-renjyaku'

Form: 

Perennial

Hardiness Zone: 

3-9

Flowering Time: 

Mid to late summer

Light Requirements: 

Partial Shade, Full Shade

Flower Color: 

Foliage is light green change to powdery yellow. Flowers are pale lavender.

Flower Form: 

Bell shaped flowers, pale lavender colored

Foliage Type: 

Heart-shaped, pointed leaves.

Growth Rate: 

Medium
Height/Habit: 

24 inches

Spread: 

18 - 24 inches

Planting Instructions: 

Soak roots in cold to lukewarm water for about 30 minutes. Dig a hole large enough to accommodate the roots without bending them. Firm soil around roots and water in well.

Soil Requirements: 

Tolerant of a wide range of soils, but best in well drained.

Will Tolerate: 

Acidic Soil, Clay Soil, Loamy Soil, Sandy Soil

Pruning: 

Remove spent flower stems to tidy up the plants for the rest of the growing season.