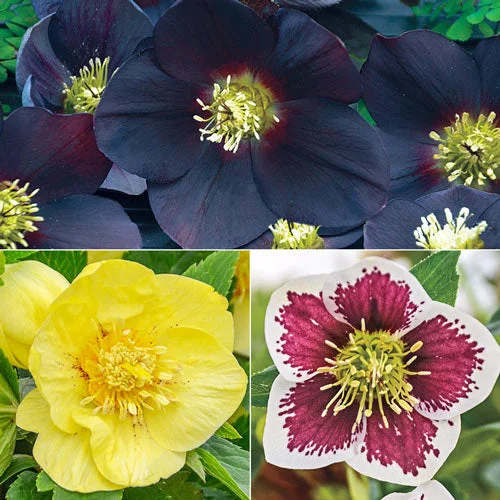 HONEYMOON HELLEBORE COLLECTION DESCRIPTION
Hellebore History
Arriving in early spring, hellebores often flower during the Christian season of Lent, which is how they got their common name of Lenten roses. Recent breeding advancements have resulted in the amazing varieties offered in these collections. For example, breeding that improved stem strength and modified bud placement on these stems allow blooms to face outward, where they can more easily be seen.
Blooms That Brighten Shady Spots
Experienced gardeners know hellebores are the perfect choice for extending the blooming season, since they combine well with other early blooming plants such as snowdrops. Long-lived hellebores keep looking fresh until other spring flowers take their place. They also are wonderful companions to such varieties as hostas and ferns that appear later in spring. Hellebores are must-haves for shady spots and patio pots, providing colour and interest when everything else is still enjoying its winter hibernation.
A Smart Investment for Your Garden
These reliable naturalizers grow easily in both heavy clay and sandy soils, as long as they are rich in organic matter. A yearly feeding of fertilizer, especially for those sown in sandy soil, will yield larger plants with more flowers. What's more, hellebores are drought tolerant and deer resistant, so they'll keep coming back year after year without fail. With this special offer, you have the opportunity to plant all three of these unique, hard-to-find varieties for much less than you may expect.
Meet the Man Behind These Hellebores
Renowned plant breeder Hans Hansen hybridized the three hellebore varieties offered in these collections. Hansen, who holds 179 U.S. plant patents, has also made improvements to hibiscus, heuchera, clematis, salvia and many other plants. He is the Director of New Plants at Walters Gardens in Zeeland, Michigan.
We've chosen these orientalis hybrids for their strong colours and many large, more easily visible blooms. What makes these 2-3½" flowers easier to see and enjoy? They're borne on strong, non-drooping stems, so these beauties face out--not down! This collection includes:
New York Night
Dark blooms are reminiscent of a big-city blackout.
California Dreaming
Beautifully formed, clear yellow flowers.
Romantic Getaway
Wine-red blooms are edged in pure white.
Botanical Name: 

Collection of various Helleborus

Form: 

Perennial

Hardiness Zone: 

4-9

Flowering Time: 

Early to mid spring

Light Requirements: 

Partial Shade, Full Shade

Flower Color: 

Collection of various colors

Flower Form: 

2-31/2" large, double, fluffy flowers

Foliage Type: 

Glossy green, leathery leaves divided into 7-9 toothed leaflets. Evergreen in warmer climates.

Growth Rate: 

Slow
Height/Habit: 

18 - 24 inches

Spread: 

18 - 24 inches

Planting Instructions: 

Dig a hole large enough to accommodate the rootball without bending them on soil level. Firm soil around roots and water in well.

Soil Requirements: 

Well drained

Will Tolerate: 

Acidic Soil, Clay Soil, Loamy Soil, Sandy Soil

Pruning: 

Simply trim back last year's foliage in the spring.