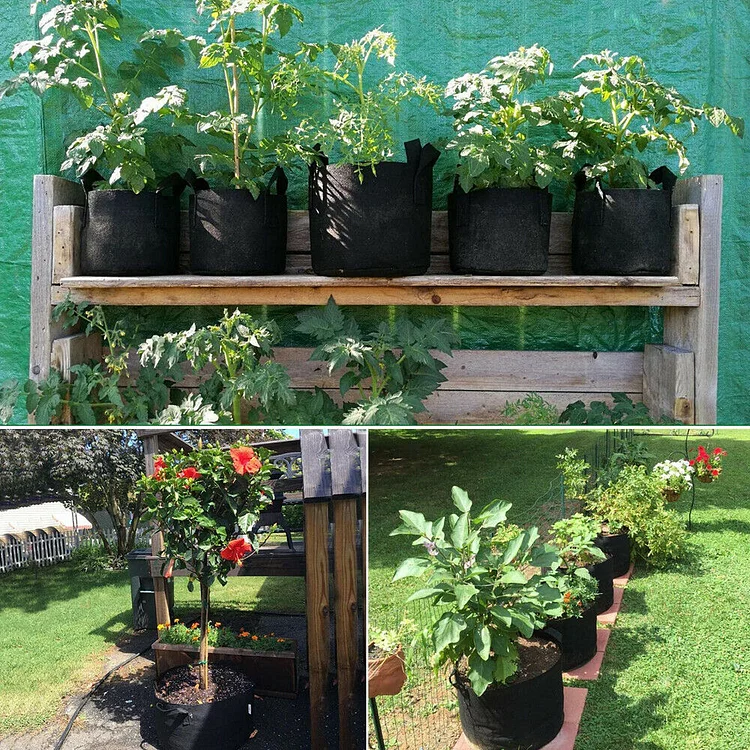 The grow bag is available in four sizes. You can choose the proper size for your plants.
The planting bag is made of a special non-woven fabric that not only ensures high strength and corrosion resistance, but also perfectly isolates and maintains the thickness of the water.
Super durable handles help to move plants more easily.
Growing bags help your plants thrive. Improve the overall root structure through a large number of healthy root tips. Keep heat in spring and autumn and cool roots in summer.
The premium quality of fabric grow bags with good drainage and aeration, which creates a perfect environment for root developing both indoor and outdoor.
Planting bags can be widely used in balconies, porches, backyard gardens and other places.
Specifications:
Material: Environmental non-woven fabrics
Color: Black
4 sizes for choosing: 3 gallon, 5 gallon, 7 gallon, 10 gallon
3 Gallon: approx. 24cm x 20cm (Diameter x Height)
5 Gallon: approx. 32cm x 25cm (Diameter x Height)
7 Gallon: approx. 36cm x 30cm (Diameter x Height)
10 Gallon: approx. 40cm x 30cm (Diameter x Height)
Note: Please see the dimension tolerance about 1-3CM (0.1-0.3Gallon) for manual measure causing.
Lenses and light cause color differences, please understand.
Use Method:
Step 1. Fill up your grow bags with any medium you normally use in pots. (Ensure that the sides of the grow bags stay upright as you are adding the soil).
Step 2. Fill to about 1-1/2inch to 2inch from the top.
Step 3. Moisten the medium before planting.
Step 4. After planting add an all-natural fertilizer to the surface of the pot and scratch it in.
Step 5. Keep the plant moist until the plant had become established. (Be sure that the water is reaching the bottom of the grow bags so that the media is uniformly moist).
Package Include:
1/2 x Black Fabric Grow Pots Breathable Bag