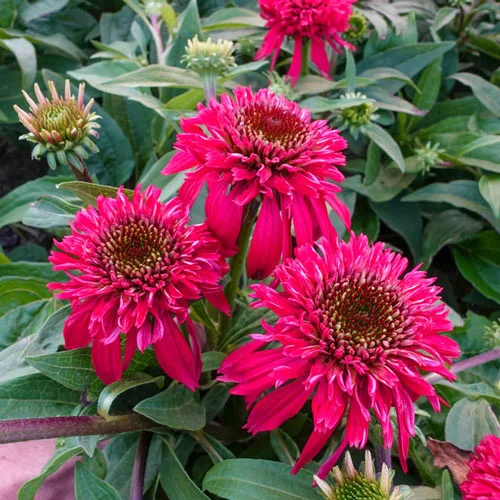 Displays a rare colour for a coneflower and needs no staking!
The rich rosy red, 4" flowers will first catch your attention. Then, you'll delight in its subtle fragrance and the butterflies that flit around the blooms with the distinctive centre cones. These double pom-poms keep their colour all season long.
Botanical Name: 

Echinacea purpurea 'Double Scoop™ Raspberry'

Form: 

Perennial

Hardiness Zone: 

3-9

Flowering Time: 

Mid to late summer

Light Requirements: 

Full Sun

Flower Color: 

Rosy-red

Flower Form: 

4" daisy-like with prominent cone

Foliage Type: 

Rich green leaves and lance-like rough and slightly toothed

Growth Rate: 

Medium
Height/Habit: 

24 - 26 inches

Spread: 

18 - 22 inches

Planting Instructions: 

Soak roots in water before planting. Loosen soil well. Plant with the eyes (sprouts) just below the soil. Water well after planting.

Soil Requirements: 

Well drained

Will Tolerate: 

Acidic Soil, Clay Soil, Dry Soil, Loamy Soil, Sandy Soil

Pruning: 

Remove spent flower stems to encourage repeat blooming.