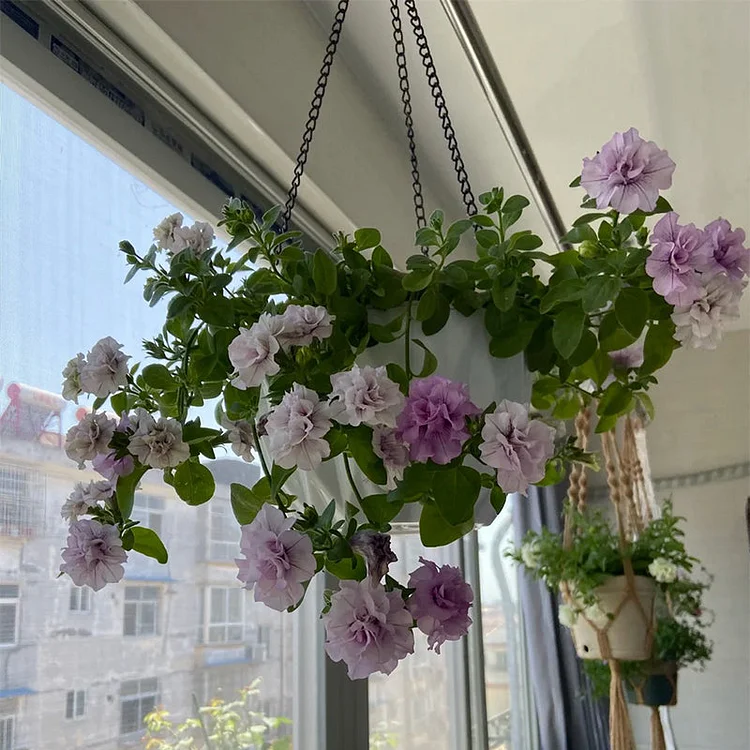 Double Ice Lavender Petunia
The flowers are beautiful in shape, fresh lavender, and the light fragrance brings happiness to people.
Maintenance Tips
1. When watering is dry and wet, the soil surface should be watered if it turns white, and it should be thoroughly watered every time it is watered. Usually, if the soil is too dry or too wet, it is not good for growth.
2. The branches of petunia grow lush, and the roots are prone to dry leaves, so pay attention to ventilation and pruning in time, and try not to water on the leaves.
3. Petunia is a sun-loving plant. It is maintained in a shaded and ventilated environment above 35 degrees in summer. At other times, it likes to bask in the sun.
4. When transplanting flower seedlings, ensure the integrity of the soil mass. The soil mass is broken or the soil mass is crushed when transplanting, which will lead to the death of the flower seedling. After transplanting, it is necessary to water the root water thoroughly, and put it in a cool and ventilated environment for maintenance for 2-3 days before basking in the sun.
Product Details:
| | |
| --- | --- |
| Genus | Petunia |
| Species | x hybrida |
| Variety | Ice lilac |
| Item Form | (P) Pkt of 50 seeds / 100 seeds |
| Bloom Start to End | Early Summer - Late Summer |
| Habit | Mound-shaped |
| Seeds Per Pack | 35 |
| Plant Height | 10 in - 15 in |
| Plant Width | 10 in - 12 in |
| Bloom Size | 3 in - 4 in |
| Additional Characteristics | Easy Care Plants, Flower, Free Bloomer, Long Bloomers, Award Winner |
| Bloom Color | Red, White, Multi-Color |
| Foliage Color | Medium Green |
| Light Requirements | Full Sun |
| Moisture Requirements | Moist,  well-drained |
| Soil Tolerance | Normal,  loamy |
| Uses | Beds, Containers, Outdoor, Baskets |