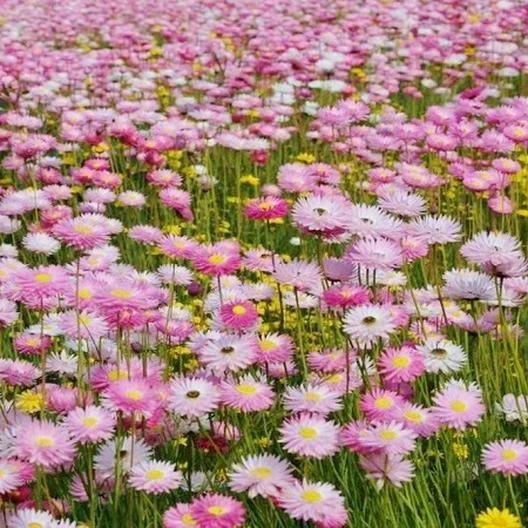 PRODUCT DESCRIPTION
Daisy Seeds - Paper Daisy Seeds Giant Flowered Mix
Paper Daisy blooms make a wonderful addition to any garden, but don't under estimate their value to a florist or even a crafter! An excellent specimen for drying, Paper Daisies also are extremely long lasting in a vase. In the lovely range of feminine hues, this mix features giant, double petaled blooms just begging to be picked!
Annual; Large Flower Heads for Maximum Color
Easy to grow; Long Lasting Blooms
Summer Blooming; Prefers Full Sun Exposure
FAST FACTS
| | |
| --- | --- |
| Name: | Daisy Seeds (Paper) - Giant Flowered Mix |
| Botanical Name: | Helipterum roseum |
| Life Cycle: | Annual |
| Light Requirement: | Full Sun |
| Planting Season: | Spring, Fall |
| Plant Type: | Long Stemmed Pink Flowers with Light Halo and Yellow Center |
| Features: | Attracts Pollinators, Cut Flower Garden, Deer Resistant, Drought Tolerant, Poor Soil Tolerant, Fast Growing, Extended Bloom Time, Easy to Grow & Maintain, Container Garden |
| Blooms: | Summer |
| Plant Height: | up to 20 inches |
| Plant Spacing: | 6-8 inches |
| Planting Depth: | 1/4 inch |
| Sowing Method: | Direct Sow |
| Cold Stratification: | No |
| Hardiness Zones: | 4, 5, 6, 7, 8, 9 |
| Ships: | Year Round |
PLANTING INSTRUCTIONS
How to Plant Giant Flowered Mix Paper Daisy Seeds
WHEN TO PLANT DAISY SEEDS
Daisies are almost foolproof to grow. They can be planted in the spring, summer or fall. Most gardeners sow their daisy seeds directly in the garden.
WHERE TO PLANT DAISY SEEDS
Choose a sunny location that is well-protected with rich, well-drained soil. Compost can be mixed with your garden soil.
HOW TO PLANT DAISY SEEDS
Use a hoe or rake to scratch the top of soil. Then, toss the seeds on top. Daisy seeds should only lightly be covered with about 1/8 inch of soil. It is important to maintain a good level of moisture until the seeds have germinated (in approximately 14 days). If you desire, a general fertilizer can be applied during the early growth stages and monthly thereafter. Before the daisies bloom, you can switch to a high phosphorus fertilizer. This will give you bigger, brighter flowers.
HOW TO CARE FOR DAISIES
Daisies need average amounts of water.
Once your perennials are established, separate your varieties by division every 3 to 4 years to avoid overcrowding. Dig up clumps and separate them into groups to be replanted.
If you live in a cold climate, give your daisies a layer of mulch to protect them during the winter.