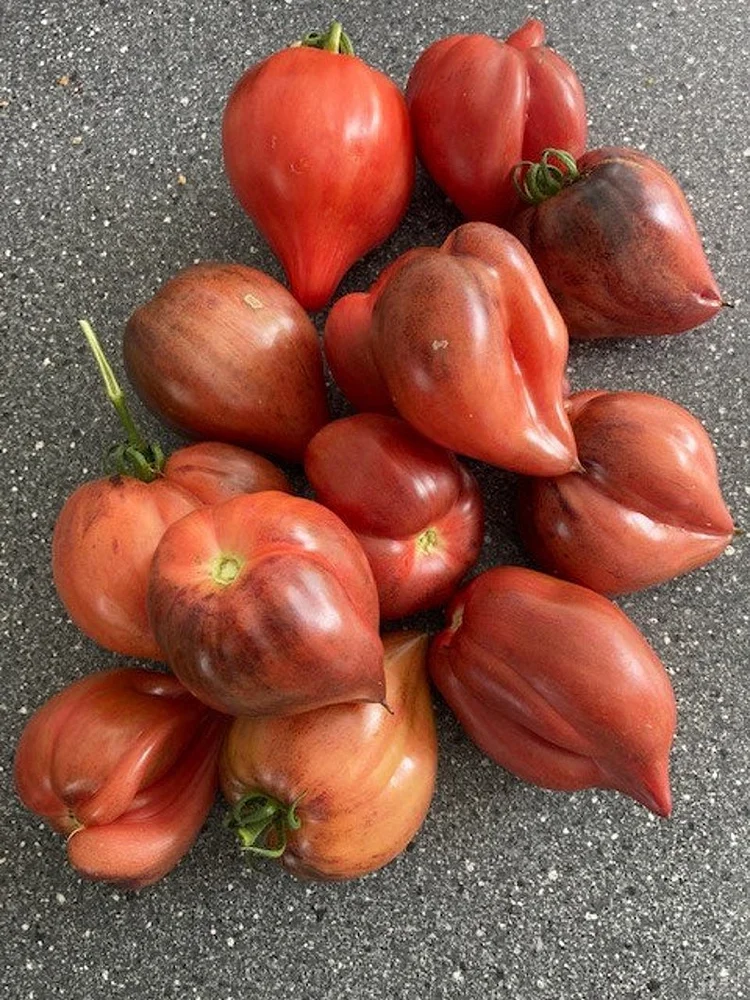 Description
Crushed Heart tomato seeds x 50
Crushed Heart was released in 2016 by Wild Boar Farm and developed by Brad Gates. Medium to large fruit (100-300g) Mid-Season. Super heart shaped and very meaty. Rich, semi-sweet flavour. Delicious! Rose-pink with green stripes. Good production. Wispy foliage. One of the earliest varieties to ripen, doing so before some cherry types. start off green with beautiful purple anthocyanin stripes and splashes. Indeterminate. Like all anthocyanin tomatoes, the more direct, unobscured light received, the darker the colour splashes.
Sow the tomato seeds thinly into a seed tray or in small pots or cells of damp compost, cover with a light sprinkling of vermiculite or compost (maximum 1-2mm only) and mist them very lightly using a spray, place at a temperature of 20-25 Celsius on a windowsill. For better results, start these seeds in a heated seed propagator or greenhouse. Don't allow to dry out whilst waiting for germination, misting with a spray only. Damp not wet! Germination will occur in 5-20 days, depending on the growing conditions and the available moisture and temperatures to sprout successfully.
As soon as seedlings have 2 pairs of true leaves, prick out and transplant the seedlings into individual small pots, later on they will require repotting again.
Plant the tomato plants outside mid-May-June (taking note of when there is no risk of frost in your specific area)
These are amateur, open pollinated seeds, harvested from plants grown this year in my own garden. They have been grown without use of pesticide in an organic manner and have not been genetically modified in any way. They can be grown both outdoors and undercover. However, be mindful that the anthocyanin varieties in my shop develop darker colouration based on the level of direct, unobscured light received and therefore perform better outdoors.

International Buyers - Please Note:
In purchasing, international buyers agree to accept the potential risk of customs confiscation. I will not refund or replace items seized by customs. I offer international buyers a delivery upgrade of tracked and signed for. I will not replace or refund lost items unless this upgrade has been purchased at checkout.

I combine postage and packing.