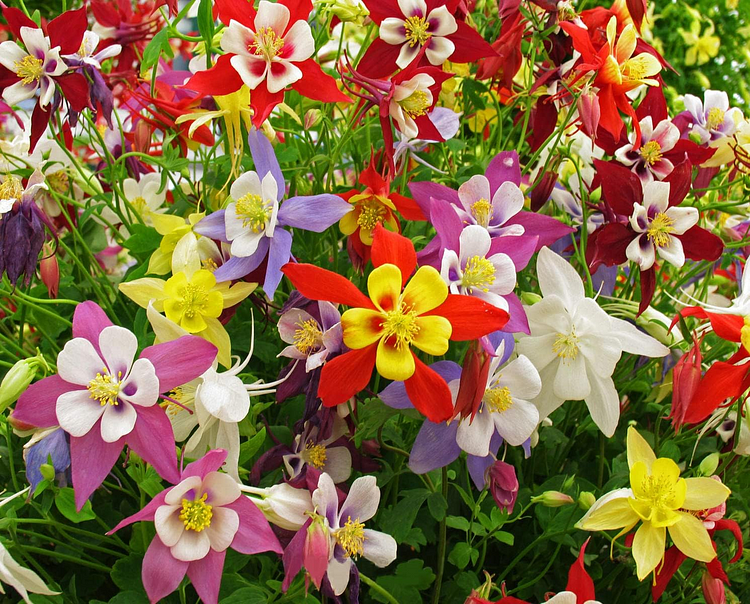 🌷🍃McKana Giant Columbine Seeds grow beautiful blooms in radiant hues of red, white, yellow and purple. Our McKana Giant Columbine Seed Mix will liven up any garden, meadow or flower bed; plus, they make a lovely bouquet! McKana Giant Columbines stand 2 to 3 feet high and produce buttercup shaped flowers that are 3 to 4 inches across. Elite gardeners choose McKana Giants!
🌸Key Features🌸
✨Botanical Name:Aquilegia hybrida Mckana Giant Mix
🪴Growing Zones:Zone 3, Zone 4, Zone 5, Zone 6, Zone 7, Zone 8, Zone 9
🪸Light Requirements:Full Sun, Half Sun / Half Shade
🌾Mature Height:24-36" tall
🍃Bloom Time:Late spring to early summer
💦Advantages:Attracts Hummingbirds, Small Spaces, Rock Gardens, Deer Resistant, Rabbit Resistant
How to Grow Columbine Throughout the Season
Growth Habit: Depending on species, Columbine will grow from 1-3' tall, and about 18" wide. Plants form a soft, mounding clump of bluish-green, deeply-lobed foliage that emerges in early spring. The fascinating, spurred flowers come in a huge array of colors and are often bi-colored. They are borne above the foliage from the center of the plant. After flowering, foliage can be cut back to encourage new, fresh foliage clumps to emerge. In areas with hot summers, especially in a full-sun position, foliage often remains dormant and reemerges in the fall. Seedlings can also seed themselves into the cracks between rocks or walls and remain green throughout a mild winter.
Staking: No staking is necessary, unless plants are grown in exceedingly rich soil.
Watering: Keep soil evenly moist and do not allow Columbine to dry out significantly during its first year in the ground. As they become established, Columbine are more drought tolerant, with deep tap roots that can access moister soil deeper down.
Fertilizing: A top dressing of compost or well-rotted manure is sufficient to keep Columbine blooming well and not becoming overly leggy.
Mulching: Mulching is a good idea for Columbine, as it thrives in an evenly moist environment.
Columbine: End of Season Care
Dividing & Transplanting: If dividing, divide carefully. Columbine has deep roots and it will sulk after transplanting. Try to dig down as deeply as you can in a circle around the clump and lift the clump without breaking the soil ball. Lay that on the ground and divide quickly with a sharp spade, trying to retain a good amount of soil around the roots. Replant the divisions gently and keep well-watered.
Pests & Disease: Leaf miner is the best-known scourge of columbine. It winds its way through the leaves between the leaf surfaces, and thus is not affected by sprays. The damage is purely cosmetic however and many a clump of Columbine in a cool summer will remain green with these white tunnels 'decorating' the foliage. But if you wish to work towards removing this pest in your garden, cut the foliage to the ground and throw it away – do not compost it. New foliage will emerge if temperatures are not scorching.
♻️14 Days Easy Return & Exchange


Items can be returned or exchanged within 14 days from the delivered day. 
AFTER-SALE SERVICE
Shipping - Worldwide Express Shipping is available
Returns>> Fast refund,100% Money Back Guarantee.
If for whatever reason you're not completely satisfied, then return the product within 90 days.
AT Our Store, WE HAVE STRONGLY CONFIDENCE ON OUR PRODUCTS. EVERY PRODUCT INCLUDES A 24-MONTH, WORRY-FREE GUARANTEE. IF YOU HAVE ANY PROBLEM OR SUGGESTION, PLEASE CONTACT US FREELY, WE WILL PROVIDE FRIENDLY SUPPORT FOR YOU IN 24 HR.