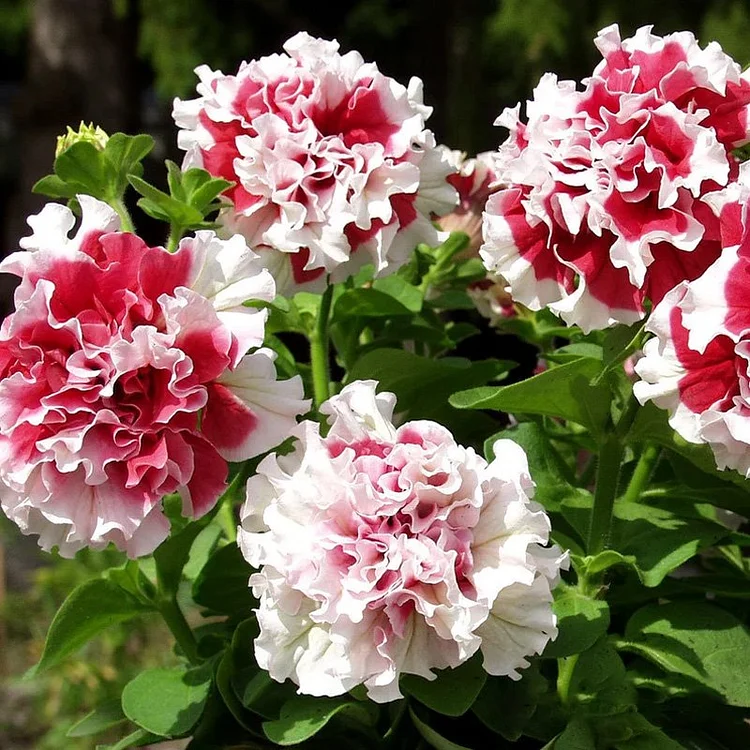 If you like your petunias large-flowered, frilly, and colorful, Pirouette was made just for you. This double-flowered grandiflora is among the showiest of all bedding petunias, with large blooms in bright colors, plenty of ruffles, and unbeatable staying power.
These flowers reach 3 to 4 inches across and nearly as high, with layer upon layer of flouncy, twisty rose-red petals edged in bright white. Keep them watered and well fed, and they will continue to delight you over a very long summer season.
Pirouette is both a bedding and a container petunia, perfect for the front of the sunny annual border, the edge of sun-soaked paths and driveways, or your finest flowerpots and garden tubs. It reaches 10 to 15 inches high and about 10 to 12 inches wide if left to its own devices, though in containers it may be a bit shorter and more trailing. This annual grows quickly from seed and is a tireless bloomer, particularly in cool and temperate climates. (On the other hand, if your summers tend to be very hot and humid, try a single-flowered Petunia instead—the Italian petunias, such as Fragolino, are all spectacular choices. —because like most doubles, Pirouette does not fare well in extreme temperatures.) You can expect 4 months or more of these huge, showy flowers.
Petunias are unrivalled for long lasting color in the border, patio containers, window boxes, and hanging baskets. They bring in the butterflies with their clear, glowing blooms, and are quite low-maintenance. Start seeds indoors 5 to 6 weeks before the last frost date. Transplant into the sunny garden after danger of frost is past.
Product Details:
| | |
| --- | --- |
| Genus | Petunia |
| Species | x hybrida |
| Variety | Pirouette Red |
| Item Form | (P) Pkt of 50 seeds / 100 seeds |
| Bloom Start to End | Early Summer - Late Summer |
| Habit | Mound-shaped |
| Seeds Per Pack | 35 |
| Plant Height | 10 in - 15 in |
| Plant Width | 10 in - 12 in |
| Bloom Size | 3 in - 4 in |
| Additional Characteristics | Easy Care Plants, Flower, Free Bloomer, Long Bloomers, Award Winner |
| Bloom Color | Red, White, Multi-Color |
| Foliage Color | Medium Green |
| Light Requirements | Full Sun |
| Moisture Requirements | Moist,  well-drained |
| Soil Tolerance | Normal,  loamy |
| Uses | Beds, Containers, Outdoor, Baskets |