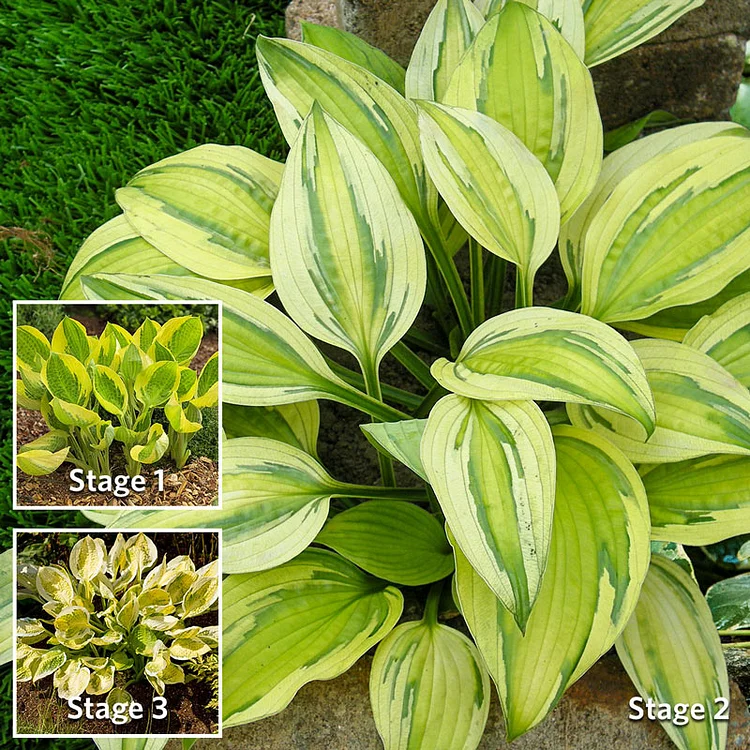 Unique tricolour variety for shade gardens.
Take the carefree, easy growth habit of traditional hosta and combine it with a trio of cool, vivid hues and you have Captain's Adventure! This glorious variety gives shady sites a bold shot of colour with yellow leaves accented with creamy white margins and streaks of deep green. In midsummer, tall scapes arch upward to show off lavender blooms that bring butterflies to the landscape. An excellent low-profile hosta for shadowy front borders, mixed containers, rock gardens and other shady scenes. Quickly fills out bare spots in the garden, too.
otanical Name: 

Hosta 'Captain's Adventure'

Form: 

Perennial

Hardiness Zone: 

3-9

Flowering Time: 

Mid to late summer

Light Requirements: 

Partial Shade, Full Shade

Flower Color: 

Lavender flowers

Flower Form: 

Multiple 1.5" bell shaped flowers on a slender 18-20" stem.

Foliage Type: 

Lance-shaped yellow leaves, creamy-white margin and darker green streaking in between.

Growth Rate: 

Slow
Height/Habit: 

14 - 16 inches

Spread: 

18 inches

Planting Instructions: 

Soak roots in cold to lukewarm water for about 30 minutes. Dig a hole large enough to accommodate the roots without bending them. Firm soil around roots and water in well.

Soil Requirements: 

Tolerant of a width range of soils, but best in well drained.

Will Tolerate: 

Acidic Soil, Clay Soil, Loamy Soil, Sandy Soil

Pruning: 

Remove spent flower stems to tidy up the plants for the rest of the growing season.