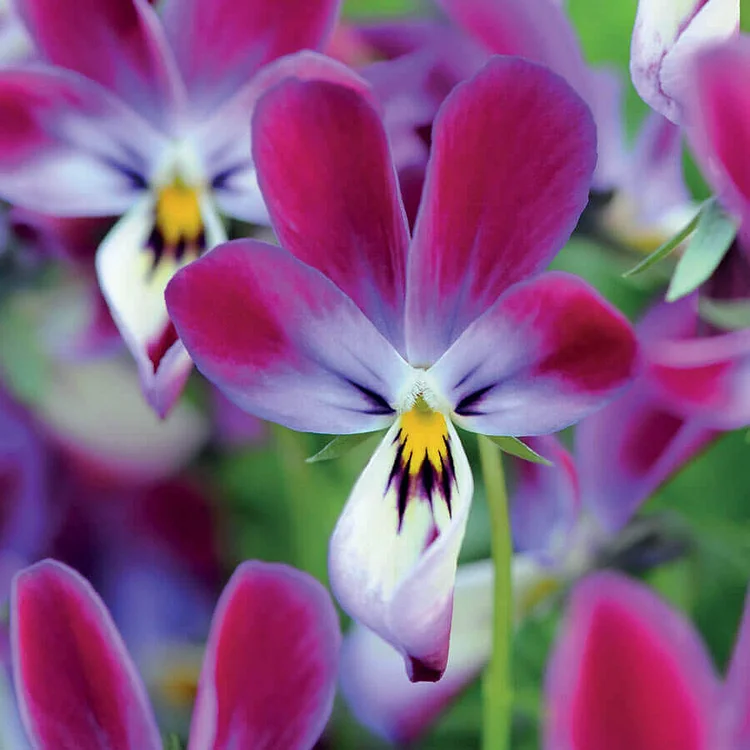 Days to Maturity: 80 to 90
'Bunny Ears' are short-lived evergreen perennials offering early spring to early summer interest. They can also be grown as annuals or biennials. Long blooming, these charming plants flower in pansy-faced blooms with unusually long bunny-ear top petals. Borne singly on upright, nodding stems, the flowers have a scent much like a hyacinth and make adorable kitchen table bouquets or cheeky additions to floral displays. And butterflies flock to them.
These hardy herbaceous plants, also known as pansies, have a tidy, rounded, mounding habit of ovate to elliptic medium dark green leaves. Delicate looking but tough and highly adaptable, they prefer sun to dappled shade and loose, rich, humusy, organic soil but will grow in almost any moist, well-drained soil. For best effect, mass plant or group. They're well-suited to containers and hanging baskets but work equally well in beds and borders and can even be planted in rockeries and set in cracks in walls and paving. Deadheading spent flowers prolongs blooming. They are disease and pest resistant.
In the North, sow seed indoors in cool, bright conditions about 6 to 8 weeks prior to setting out. Water sparingly until plugs are fully rooted. The plants thrive in cool weather and tolerate light frost or cold night temperatures. Acclimatize them outdoors 7 to 10 days prior to transplanting. In the South, plants can be grown for fall and winter flowering. Sow seed indoors in midsummer, 6 to 8 weeks before transplanting into the garden after the cooler weather arrives.
| | |
| --- | --- |
| Genus | Viola |
| Species | cornuta |
| Variety | 'Bunny Ears' |
| Item Form | (P)?Pkt of 50 seeds |
| Bloom Start to End | Late Winter - Early Summer |
| Days to Maturity | 90 |
| Seeds Per Pack | 50,100 |
| Plant Height | 8 in |
| Plant Width | 8 in |
| Bloom Size | 1 in |
| Additional Characteristics | Bloom First Year,Cool Season,Easy Care Plants,Edible,Flower,Free Bloomer,Season Extenders |
| Bloom Color | Blue,Light Yellow,Multi-Color,Purple,White |
| Foliage Color | Medium Green |
| Light Requirements | Full Sun,Part Shade |
| Moisture Requirements | Moist, well-drained |
| Resistance | Cold Hardy |
| Soil Tolerance | Normal, loamy |
| Uses | Baskets,Beds,Border,Containers,Ground Cover,Outdoor |