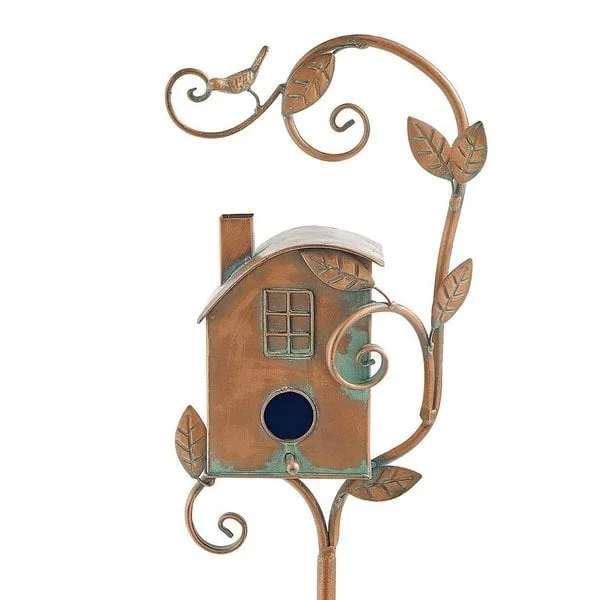 🐦🐦Sit back and enjoy watching the birds in your backyard, while adding a unique piece to your outdoor decor.It will bring fun to your lawn, garden and is ideal garden decoration praised by friends and relatives.
This house would make the perfect gift for any bird enthusiast!
I can't begin to tell you what a beautiful bordhouse is . When people come to my door the first words is how beautiful this birdhouse! All expectations met! Really brightens your garden.
It can be placed in the garden, on a patio, used as an accent in a flower pot, both outdoors and indoors, for all your floral, garden, gift and seasonal decor needs.
The metal bird house made of metal and cast iron, is waterproof, rust-proof. Can withstand rain, freeze or shine, long-lasting beauty indoors or out.
An stylish double-layers A-shaped house with a beautiful 3D rose, fences in front, and tall stands are surrounding with leaves to add nature and romance to bird house stakes.
🌟This beautiful Colorful Planter is sure to put a smile on the faces of your visitors, and it can be sent to you now! 🌟

---
DETAILS:
Abstract Birdhouse Garden Stake, Size: 10 * 17 cm
Cottage Birdhouse Garden Stake, Size: 8 * 17 cm
Silo Birdhouse Garden Stake, Size: 9 * 16 cm
Traditional Birdhouse Garden Stake, Size: 8 * 18 cm
Farmhouse Birdhouse Garden Stake, Size: 8 * 20 cm
---
PRODUCT PACKAGE:
1 * Bird House with Pole