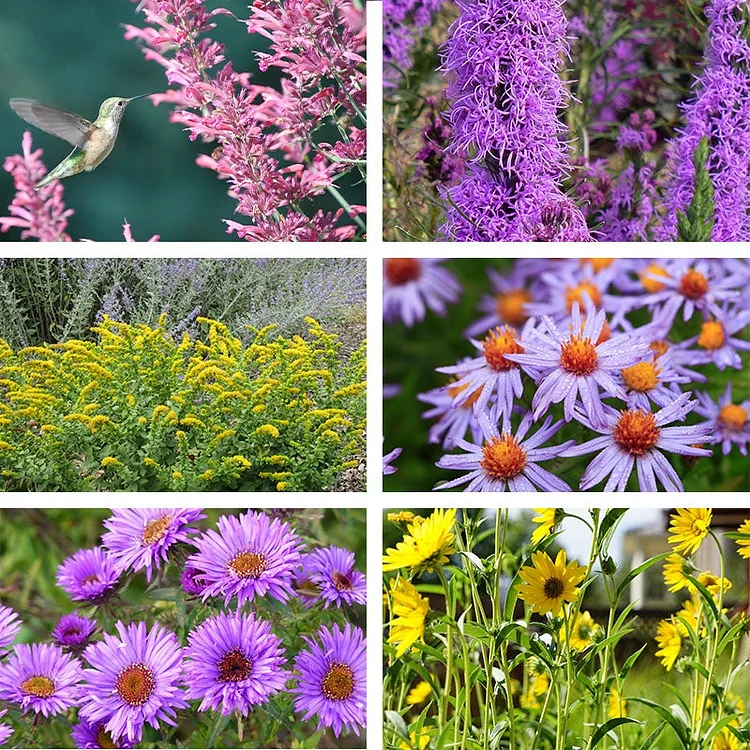 Welcome to our Native Pollinator Paradise Collection, where nature's harmony comes to life! These stunning native perennials have been carefully selected to create a haven for pollinators in late summer and fall. Not only are they a treat for the eyes, but they're also water-wise, deer-resistant, and easy to care for. Prepare to be enchanted by the flutter of butterflies, the hum of hummingbirds, and the buzz of honeybees in your garden!
This collection of plants will support pollinators in the late summer and fall. These easy-to-care-for perennials are water-wise and deer resistant. They are long-blooming and attractive to butterflies, songbirds, and honeybees. Drought resistant/drought tolerant plants.
Our Autumn Magic Pollinator Collection comes with 6 plants (1 of each) and covers approximately 28 sq. ft. when planted together.
Key Features: 🌸 Growing Zones: Suitable for Zones 5, 6, and 7, ensuring adaptability to a wide range of regions.
🦋 Attracting Wildlife: Our native perennials are not only bee-friendly but also attract beautiful butterflies, hummingbirds, and other birds to your garden.
🌞 Full Sun Lovers: Thriving in full sun, these plants will brighten up your garden with colorful blooms.
🌿 Low Maintenance: These easy-to-grow perennials require minimal care, allowing you to enjoy their beauty with ease.
🦌 Deer-Resistant: Say goodbye to deer damage as these plants are resistant to browsing.
Plant Details: 🌼 Mature Height: Heights vary from 12-72 inches tall, providing a dynamic landscape.
🌻 Bloom Time: Enjoy a riot of colors from mid-summer through fall, ensuring your garden remains vibrant all season long.
Create Your Pollinator Paradise: Transform your outdoor space into a pollinator paradise with our carefully curated collection. Watch as your garden comes to life with the mesmerizing dance of pollinators.
Order Now: Don't miss the chance to support local pollinators and enjoy a colorful, low-maintenance garden. Order your Native Pollinator Paradise Collection today!
Together, we're improving the earth, one garden at a time
celebrating earth day, every day
Dailyrosy Gardens was founded with a mission to make sustainable gardening accessible to every gardener, and we believe the natural world needs champions now more than ever. We're your source for expert advice, a passionate community, and plants that are beautiful, resilient, and beneficial to a healthy ecosystem.