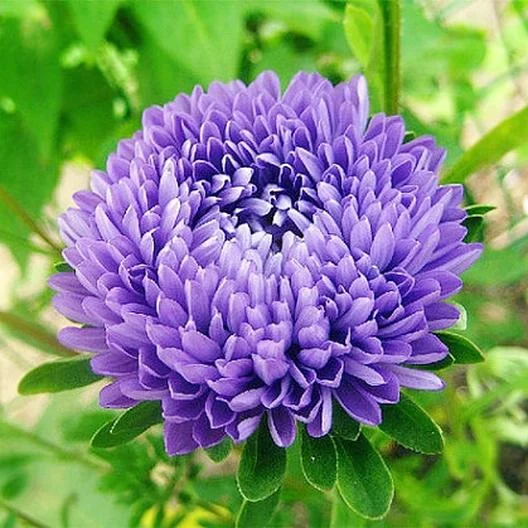 Shorter growing annual with large, fluffy blooms
Easy to grwo pollinator attractor with unique purple blooms in summer
Thrives in bright, sunny growing areas
LIFE CYCLE:Annual
LIGHT REQUIREMENT:Full Sun
PLANTING SEASON:Spring
COLOR:Purple
DAYS TO MATURITY:60-90 Days
PLANT HEIGHT:16 inches
PLANT SPACING:6-8 inches
PLANTING DEPTH:1/8 inch
SOWING METHOD:Direct Sow
WATER NEEDS:Average
COLD STRATIFICATION:No
SEEDS PER POUND:204, 200
HARDINESS ZONES:3, 4, 5, 6, 7, 8, 9
SHIPS:Year Round
PLANT TYPE:Semi-Dwarf, Mound-Shaped Habit, Pin Cushion-like Blooms, Ovate Leaf Shape
FEATURES:Open Pollinated, Attracts Pollinators, Container Garden, Easy to Grow & Maintain, Cut Flower Garden
BLOOMS:Summer, Late Summer, Early Fall, Fall
How to Plant Jewelaster PurpleAsters
WHEN TO PLANT ASTER SEEDS
Plant outdoors after the last frost of the season or start indoors 6-8 weeks before the last frost date.
WHERE TO PLANT ASTER SEEDS
Plant in moist, nutrient dense, well draining soils that are exposed to full sun (6-8 hours of sun per day) to partial shade (4-6 hours of sun per day). Do not plant Asters in areas where the soil readily dries out.
HOW TO PLANT ASTER SEEDS
When sowing outdoors, spread the seeds across the surface of moistened soil. Repeat this several times every 10-14 days and keep the soil moistened to ensure an extended blooming season. When grown indoors, transplant into the garden 6-8 inches apart.
HOW TO CARE FOR ASTERS
Asters are easy to maintain. Do not allow soils to dry out. Mulching around each plant can both keep weeds down as well as aid in moisture retention. Taller flower stalks may need to be staked to keep them from falling over. Keep from crowding asters together wherever possible to allow for better airflow between plants. Plant in different locations each year to reduce the risk of spreading potential pests or diseases.