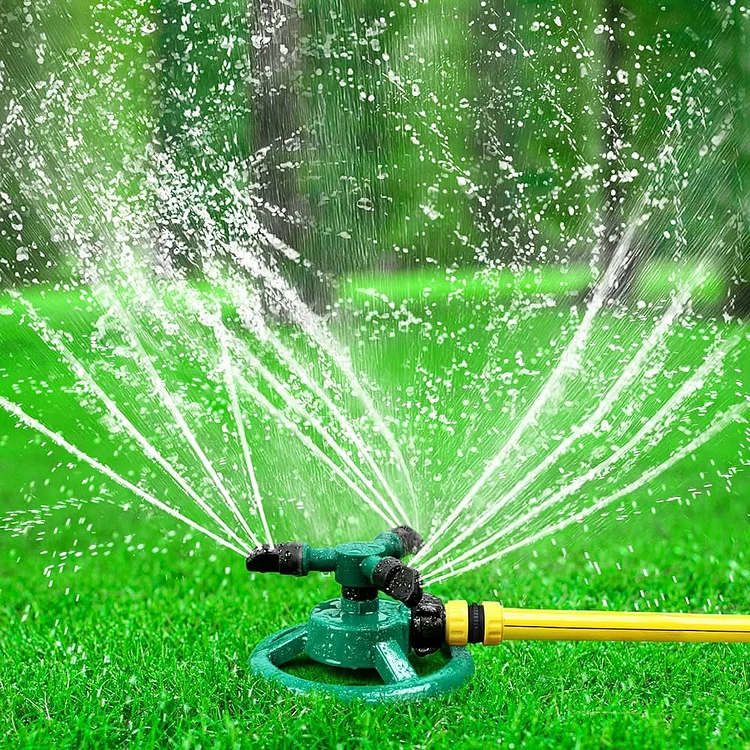 💦💦Will you be tired of watering your garden and lawn manually in hot summer? Do you want a tool to help you to give your plants a drink and you can have more time to do other thing? Do you wish a toy that you can play with your kids outdoor?
🌈🌈Water Sprinkler will be the one that you must have! It can Watering your lawn, plants, flowers, veggies and more. It can be rotated 360 degree to make sprays, the way that it spins, it gets more of the lawn much better. It is very quiet, it sounds like slight rain and sprays like dancing, perfectly suit for kids to play with. You can just use this as a fun water activity game for the kids outdoors.

🏠Product Description
Water Saving Garden Sprinkler

Made of high-quality ABS plastic

3 Adjustable Arms

360 ° Automatic Rotation

Large Coverage Area

Easy Installation

📌Features
1.For Large Area Coverage: This water sprinkler features 3-way propeller design, and each sprinkler has 4 nozzles with different angles, and each nozzle sprays water to each corner at a different angle to make the irrigation more even and achieve larger area coverage.

2. Ergonomic Water Sprinkler: This water sprinkler is practical and ergonomic, detailed, and it gives you different use experience.

3. Stable Sprinkling: The water sprinkler fits to the ground to stabilize the working arc streamlined body to convert the air flow from the cantilever into pressure, making the water sprinkler itself more stable to use, even on uneven ground.

4. Please Note: You can connect multiple sprinklers in series. The more you connect in series depending on your needs, the more sprinklers you connect, the lower the spray pressure will be. You must consider whether the water pressure is sufficient or whether there is a pressure booster and other factors if you want to use 5 sprinklers simultaneously.

5. 360 Degrees Rotation: This water sprinkler features water-powered 360°rotation straight spraying + oblique spraying.
Why Choose Our Garden Sprinkler?
The 360-degree rotating sprinkler can irrigate a diameter range of 24-49 feet.

The sprinkler head is made of high-quality ABS plastic can prevent water leakage.

It is suitable for grass irrigation, flowers watering and vegetable gardens watering, and can also be used as an entertainment device for children and pets during the hot summer.