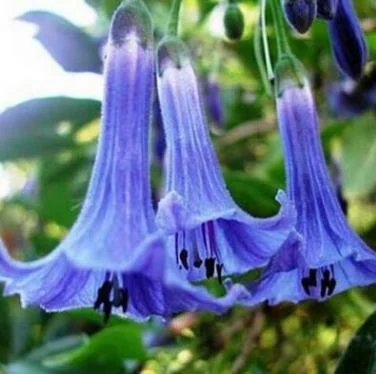 Specification:
Flowers color:Random colors
Sowing: First, soak the seeds in warm water for 4-6 hours or treat them with sulphuric acid. After sowing, cover the soil about 1 cm. Keep the soil warm and humid. After 5-6 days, germinate. Two of the leaves can be transplanted and the plant distance is 30 cm.
Suitable temperature for germination: sowing time at 20-25 day' spring and summer;
Suitable temperature for growth: flowering period at 22-34 day' summer and Autumn
Planting: Need to choose the soil fluffy, good drainage.
Watering: When the soil surface is slightly dry, it should be watered.
Fertilizer application: once a half-month dilute liquid fertilizer application.

Package Included:
1 x Pack Potted Bonsai Trumpets Flower Seeds

Kindly Tip :
Please understand that colors may exist chromatic aberration.
Plant growth is affected by temperature, water, light and other factors.
Under unsuitable conditions, plant growth will be slow or even death.