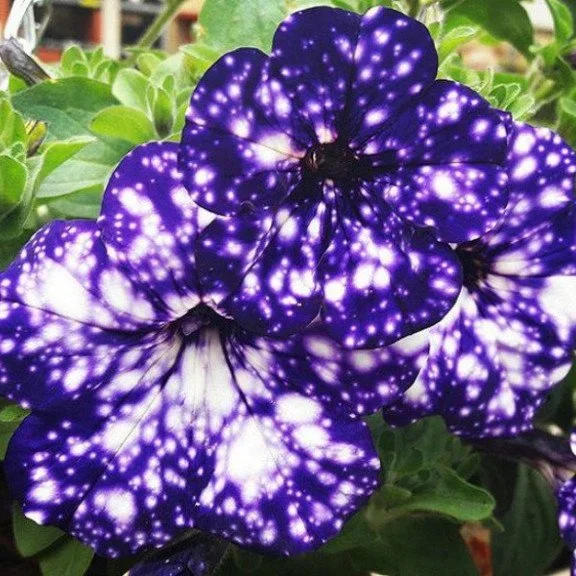 'Night Sky' is the prettiest petunia you'll grow this summer
Its gorgeous purple flowers and white star-flecks bloom all season long.
Of course, petunias are easy-to-grow annuals popular for adding lasting color to your garden or patio during the summer. Their bright purple petals are interspersed with white, and pure purple varieties certainly exist, but the starry effect of white dots on "Night Sky" is totally mesmerizing.
How to Grow a 'Night Sky' Petunia
Petunias are annuals, so they only last the growing season. Luckily, once they bloom, they will keep blooming for months until the first fall frost. "Night Sky" petunias tend to start blooming in the summer and continue into the fall. Plant them in a sunny location with at least six hours of direct sunlight a day. Any less and your plants will produce fewer flowers.
Petunias are drought tolerant, but don't like to be planted in moist soil, so if you're growing in a yard, be sure to choose a well-drained spot. If you are planting them in containers or hanging baskets, allow the top of the soil to dry out before watering again (some growers may require daily watering).
Since petunias require a lot of energy to bloom almost constantly, they also need to be grown in rich soil rich in organic matter to provide the nutrients they need. Fertilizing them regularly will also help the plants continue to bloom; use a balanced 10-10-10 fertilizer every two weeks for containers and every three weeks for petunias planted in the garden. They shouldn't need too many dead spots, as used flowers usually fall off on their own, but you can give it a light pruning mid-season if the stem starts to grow too long.
The pattern on each "Night Sky" flower changes with temperature, so many of your blooms may change as the growing season progresses. Generally speaking, lower temperatures will produce more white spots, while higher temperatures will result in more purple petals. Typically, you'll see the Milky Way flowers swirling with the most "stars" in the fall as the weather starts to cool.