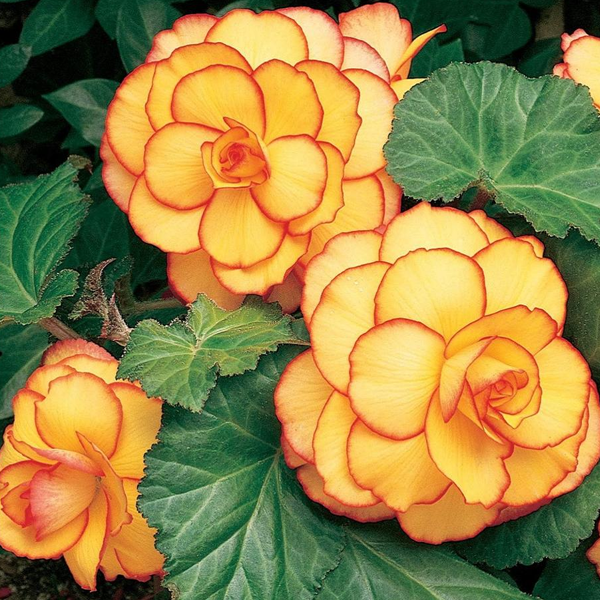 Begonia (Begonia Tuberosa Double Yellow) - If you have a lot of dappled light in your landscape, Begonias are a wonderful plant to grow. Start the Begonia Tuberosa seeds and grow a large quantity of plants to give a wonderful color display with this bright yellow, double flowered Begonia. Many flowers do not perform in indirect light, but Begonias perform well in shady conditions making them invaluable.
How to grow
How To Grow Begonia From Seed: Start Begonia seeds indoors 12 weeks before last frost. The flower seeds are very small and should not be covered. Press the Begonia seeds onto the sterile potting mixture, water from underneath to avoid fungus, and cover the flower seed tray with glass or plastic wrap to hold in the moisture.

Harden off Begonia plants for 10 - 14 days before transplanting outdoors. They are frost-tender, so plant after frost danger has passed. Transplant tuberous Begonias into quality garden soil that has had organic matter added to it.
Flower Care
Begonia care includes keeping the soil moist but not soggy. Also, Begonias are heavy feeders and perform best with a monthly application of a balanced liquid fertilizer. Begonia plants also look best if they're trimmed after the blooms are spent.
Grow your own flowers with these 20 pcs Yellow-Red Begonia Flower Seeds. Each pack contains 20 seeds.

Highlights:
Product Type: Bonsai
Climate: Temperate
Model Number: Begonia
Applicable Constellation: Taurus
Use: Indoor Plants
Style: Perennial
Classification: Novel Plant
Flowerpot: Excluded
Full-bloom Period: Spring
Variety: Malus Spectabilis
Size: Mini
Location: Balcony
Function: Interest
Cultivating Difficulty Degree: Very Easy
Type: Blooming Plants